Opals are the jewellery world's latest rock stars
Opal is finally having its moment in the jewellery world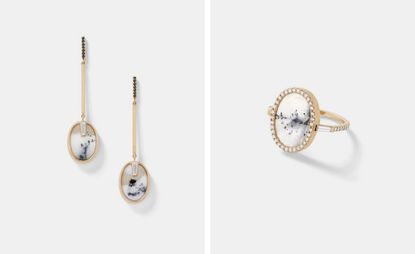 (Image credit: TBC)
There are few stones more polarising in the style stakes than the opal. Often lampooned for its bohemian sensibilities and cleansing powers, the opal, in all its myriad colours and patinas, has recently made a sartorial come back as the unexpected stone star of Louis Vuitton's latest high jewellery collection in addition to series by contemporary fine jewellers from Monique Péan to Noor Fares.

'Over the last few years we've seen fine jewellery become more of a fashion category,' says Sophie Quy, Net-A-Porter.com's fine jewellery buyer. 'Women are buying fine jewellery for themselves and experimenting with other stones in addition to the classic diamond. Opals have been one the most popular stones with our customers.' From Melissa Joy Manning's gradated drop earrings to Brooke Gregson's gold bezelled opal pendants, after millions of years in the making, the mineraloid is finally having its moment.

'Whether it's the rich deep blues and turquoise of Australian boulder opals, or the fierce orange hues of Mexican fire opals, each stone has a unique feel and flow to it,' Quy adds of its chameleon qualities. Ranging from opaque to semitransparent, each opal is a true one-of-a-kind, which is exactly what makes it so inspiring for jewellers.

'I started working with opal after visiting Peru in 2011,' says Monique Péan, who visits a new country for sustainable material inspiration each year. Deep within the Andes Mountains near San Patricio, Péan found the rare and translucent Peruvian blue opal. 'Depending on the cut of the stone, Peruvian opal may be clear, scenic (showing varying degrees of colour) or dendritic with black fern-like inclusions,' she explains, adding that the artisans collect the stones in small quantities, so their collection is free from chemical mining.

Meanwhile, Brooke Gregson, who primarily works with the Australian stones, says, 'I've been working with boulder opals for so many years and just recently people have started gravitating towards it.' The London-based, Los Angeles-born jeweller quite rightly describes as 'nature's paintings'.

'One centimetre of boulder opal takes like 4 million years to form,' Gregson continues, explaining that Australia's national gemstone makes up only two percent of the world's opal stocks. 'It's water-rich, having been formed by water seeping into the crevices of the earth.' Which also means that they are known as a power stone, cleansing the organs while enhancing creativity. Yes, the opal has joined that other 1970s relic – glazed pottery – as 2015's unearthed design treasure.