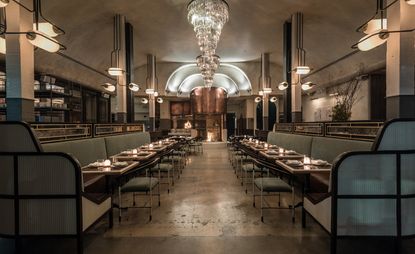 (Image credit: press)
Australian celebrity chef Curtis stone - the man behind successful LA restaurant Maude - has now opened a second eatery in the city, this time teaming up with his brother, Luke.
Named after their grandmother Gwen, who had a farm outside of Melbourne, the brothers are eschewing the trend for the ever-popular vegan juice bar in favour of a meat-focused restaurant that hones in on their early professions, working as butchers.
Located on Sunset Boulevard, in a building dating from 1926, the interiors - by New York-based Home Studios - is a throwback to Hollywood glamour with plush, art deco appeal; a raw concrete base is offset with a pink-topped marble bar, crystal chandeliers and velvet booths in a dusty olive palette, creating the perfect setting to tuck into the five-course meat-centric tasting menu.
Here, everything from Wagyu beef to Scottish grouse dishes, are complemented with fresh, seasonal produce from the nearby Hollywood farmers Market.
There is also a six-seat dining room bar called Butcher's Scraps where, in keeping with the brothers' desire to use the whole animal, will feature daily dishes from meat pies to charcuterie or lamb ribs, that are no less lip-smacking. In addition, a butcher shop at the heart of the restaurant provides top quality hormone-free and ethically raised and slaughtered meat for the home cook to take away.
INFORMATION
ADDRESS
6600 Sunset Blvd