No.29 Power Station West — London, UK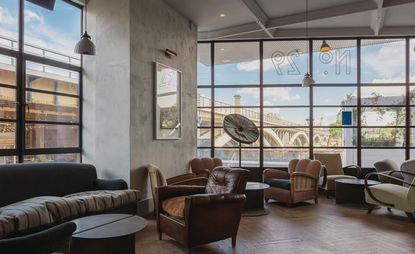 (Image credit: press)
For most Londoners, the development of the iconic Battersea Power Station felt like a work-in-progress that seemed destined to play out for eternity. Thankfully, that progress is underway, with the first shops and restaurants at the adjacent Circus West Village development flickering into life. Chief among these is No.29 Power Station West, a modern neighbourhood bar opened by independent group Darwin & Wallace, known for elegant modern pubs such as 11 Pimlico Road and 197 Chiswick Fire Station.
Designed by architect Lou Davies of West London studio Box 9, the all-day bar and restaurant's interior tips its hat to the area's industrial heritage and the power station's period of development in the 1920s and 30s, with Art Deco touches and artwork coexisting gracefully with raw concrete, tiles and parquet flooring. The designers visited Miami to look at Art Deco graphic design and architecture, juxtaposing it to the power station's interior. 'The iconic location very much led the design,' D&W's Managing Director Mel Marriott explains.
The location also provides a suitable vista for Battersea residents, who drop in for brunch or Sunday roasts with a view of the river and station - an appropriate reward for their patience.
INFORMATION
ADDRESS
Unit 29 Circus West
Battersea Power Station
VIEW GOOGLE MAPS (opens in new tab)