Mason & Company — London, UK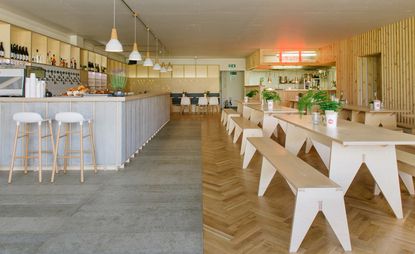 (Image credit: TBC)
The arrival of a new craft beer bar in a neighbourhood blessed with some of London's best may not outwardly be a particularly novel proposition. In contrast to the self-conscious shabby chic and bawdy crowds of its rivals, however, newcomer Mason & Co's sleek, minimal environs in Hackney Wick present an excellent addition to an area already blessed with after dark options.
Founded by the team of Ed Mason, founder of Five Points brewery and Rachel Jones, founder of London street food staple Capish, the duo have kept the business a neighbourly affair by working with Hackney-based Fleet Architects, who have designed an attractive, airy space in which to taste the brewery's bespoke creations. A neutral, warm aesthetic characterised by the liberal application of blonde wood, rigorous lines and natural light illuminates the interior, which contains subtle details like narrowboat livery patterns within seat panels and diamond tiles behind the bar.
The canalside location, tucked away in a corner of the Olympic Park, only adds to the atmosphere. Grab a refreshing light ale and one of the bar's formidable sandwiches – the slow cooked steak with Pecorino is a winner, oozing with herbs and bone marrow – and lap up the neighbourhood's short summer season.
ADDRESS
7 Canalside
Here East
Hackney Wick E20 3BS