Notting Hill's Sister Jane Townhouse is a theatre of whimsy
Sella Concept devise an eccentric, multi-experiential home for fashion brand, Sister Jane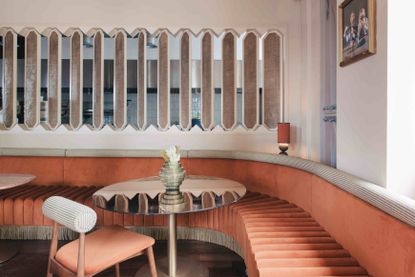 (Image credit: press)
It stands to reason that a maximalist concept would be realised with a maximalist design and, indeed, Notting Hill's Sister Jane Townhouse is anything but coy.
Part HQ for the eponymous fashion brand, part concept store and part neighbourhood eatery (in collaboration with Cha Cha), it is a complete lifestyle ecosystem – one with a singular, 70s-inspired narrative.
Sella Concept was drafted for the design of the project, the studio's founders Tatjana von Stein and Gayle Noonan known for their postmodern viewpoint and, often, the introduction of witty, exuberant references.
At Sister Jane Townhouse, that air of playfulness is found in the abundance of shapes, in the gallant colour combinations and in the unexpected use of materials. Rows of tassels hang from the stairway roof, from the edges of tables and in tiers from stools, in vermillion, grey and gold; there is faux fur-covered seating in unashamedly cheerful yellow; and the myriad spaces have been designed with an almost architectural eye, von Stein and Noonan introducing steps, plinths and other elevations to better showcase Sister Jane's pieces.
Many of the details are bespoke, from the glossy hexagonal tables in the restaurant to the hanging rails on the retail floor – crafted in walnut timber with brushed brass joints and pearlescent lights. Others are pulled from the past, such as the Gio Ponti chairs and Guzzini pendants, both of which are 1970s originals.
For devotees of Sister Jane and its distinctive brand of period glamour, the Townhouse is intended to be a wonderland of sorts; a place of theatre of whimsy. In the bijou garden, for example – accessed via a hidden entrance in an antique armoire – Italian carousel horses serve as seating. The upstairs fitting rooms are fully mirrored to give the impression of stepping into an infinite void, leaving customers to ponder their purchases in a stylish abyss.
At Cha Cha, then, the cuisine is no less esoteric than the design. European staples are given a surprising Latin twist (the avocado on toast featuring candied chilli and Amazonian nuts) and there are occasional nods to Japan in the likes of robata duck skewers; the dining experience both a jaunt around the world and, in the surroundings, a step back in time.
INFORMATION
Website (opens in new tab)
ADDRESS
36 Golborne Road
London
W10 5PR
VIEW GOOGLE MAPS (opens in new tab)