New London restaurant Pollini opens at Ladbroke Hall with interiors by Vincenzo De Cotiis
Vincenzo de Cotiis Architects and chef Emanuele Pollini create Pollini, Ladbroke Hall's new restaurant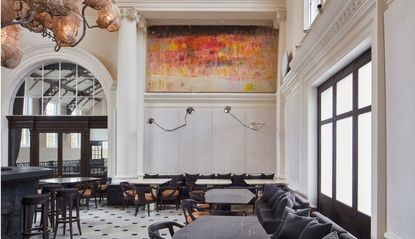 (Image credit: Courtesy of Carpenters Workshop Gallery)
Carpenters Workshop Gallery's new London restaurant, Pollini at Ladbroke Hall, brings together the skills of two Italian creatives – chef Emanuele Pollini and architect Vincenzo De Cotiis – under the vaulted ceiling of London's new destination for art, design, music and food.
The duo have joined forces before, with the gallery's co-founders Loïc Le Gaillard and Julien Lombrail first sampling Pollini's handiwork at a dinner hosted by De Cotiis in Milan. 'We felt it was rare to find someone who could put so much emotion into a plate of pasta,' says Le Gaillard. 'And as with all of our artists, we were looking for a chef who could tell a story.'
Pollini at Ladbroke Hall
Pollini's playground is the magnificent arched space that was once the entrance to the former Sunbeam Talbot Motor Company. Its 1903, Grade II-listed architecture has been preserved and accentuated by De Cotiis, who has drawn on the monochrome colour palette of the original details, such as a marble balustrade, and added reflective surfaces. 'The restaurant doesn't just occupy the space; it converses with it,' he insists.
Seated at tables topped with hand-patinated, reclaimed fibreglass – also designed by the architect – guests will be taken on a journey through Pollini's childhood in Italy. In the chef's homage to his mother's lasagna, for example, this Italian classic is reborn as ravioli, served with dried ragu 'chips' that evoke the sumptuous crust of the original.
The gallerists worked with Pollini – named Gambero Rosso's chef of the year in 2020 – just as they would with any of their artists and designers, challenging his vision, curating the dishes that they felt were most 'relevant' and suggesting tweaks to flavours and presentation. 'The philosophy behind Ladbroke Hall is all about creative dialogue,' says Le Gaillard.
Meanwhile, De Cotiis' challenge was to make the building's imposing Beaux-Arts architecture feel intimate. His solution was to cocoon part of the central bar area with a sculptural fibreglass wall, lined with hand-treated granite on the inside, and shelves made from antiqued glass.
The black tones of the bar, seating and tables give way to white on the walls, drawing the focus to the architectural detailing and a vast chandelier by Nacho Carbonell that plunges from the ceiling – an organic spectacle in which glowing metal meshes unfurl from gnarled branches.
Antiqued and hand-patinated surfaces are a De Cotiis hallmark that will be writ large in his upcoming exhibition, 'Archaeology of Consciousness', opening at Ladbroke Hall during Frieze Week (10 October 2023 - 28 January 2024). A series of distorted arch sculptures will be presented in a ruin setting, their rare stone, reclaimed fibreglass and Murano glass marked by a combination of natural erosion and hand-patination. His goal for these ambiguous objects, he says, is to 'reframe our understanding of ruins, not as remains of the past, but as fragments of a future yet to be constructed'.
Visitors to the show will be able to explore this ruined landscape before interacting with De Cotiis' work more directly in Pollini at Ladbroke. This gets to the heart of the gallerists' goals for Ladbroke Hall. 'It's not enough to just show beautiful art anymore – we want to offer an experience,' Le Gaillard explains, adding that food is a vital part of the 'cultural ecosystem' that they are incubating in west London.
At Ladbroke Hall, art, design and linguine ai ricci also come with a side-dish of jazz on Friday evenings, and from next week, visitors will also be able to pop down for an aperitif at 'Lamyland', a bar, lounge and recording studio conceived by French designer-artist Michèle Lamy. In spring 2024, diners will also be able to spill out onto the new garden by London-based designer Luciano Giubbilei.
Receive our daily digest of inspiration, escapism and design stories from around the world direct to your inbox
Malaika Byng is an editor, writer and consultant covering everything from architecture, design and ecology to art and craft. She was online editor for Wallpaper* magazine for three years and more recently editor of Crafts magazine, until she decided to go freelance in 2022. Based in London, she now writes for the Financial Times, Metropolis, Kinfolk and The Plant, among others.