The Fairmont Royal Palm is a tranquil oasis in the heart of Marrakech
The Fairmont Royal Palm hotel showcases the sensory delights of Marrakech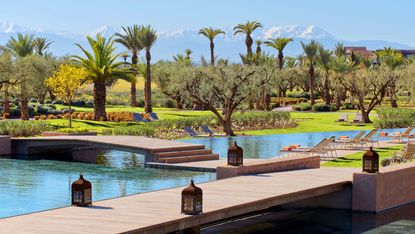 (Image credit: The Fairmont Royal Palm)
Marrakech is an alluring destination. Situated in the west of Morocco at the foothills of the Atlas Mountains, it is one of the country's four imperial cities and a major economic centre – an evolving metropolis that melds the ancient and the modern.
Passing through one of the eight gates to this historical place, you will discover a densely packed labyrinth of alleyways, souks and hidden gardens, in which you could lose yourself for days.
The Fairmont Royal Palm succeeds in encompassing all that Marrakech has to offer while placing its guests in a tranquil and relaxing environment that is a mere 12 km (a 20-minute drive) from the city and the exciting maze of the Medina. Set over expansive grounds (including a beautiful 18-hole golf course) the hotel rises into view as a dramatic series of interlinked cubes, fronted by glittering oasis-like pools, and it offers 134 rooms, suites and villas nestled amidst lush orange, palm and olive trees.
The Fairmont's location allows for decadently spacious accommodation, with rooms that open onto shady terraces, and huge, lavish, bathrooms that are a pastime in themselves. There is a wonderful sense of space and light in this setting, with its panoramic views over the Moroccan landscape, dotted with palm trees and with the purple haze of the Atlas Mountains on the horizon.
The opulent interior of the hotel is the vision of French designer Marilin Spataro and celebrates Moroccan culture in luxurious contemporary style. The Fairmont nurtures close relationships with skilled local artisans and the soaring spaces of the hotel afford a fabulous backdrop for an array of carved wood, marble, and extravagant textiles, to create a richly layered and glamorous environment.
Should you wish to stay within the restful calm of the resort, your time there would be well rewarded. There is the aforementioned golf course (one of the finest in Morocco, designed by American golf course architect Cabell Robinson), a selection of pools, tennis courts and a spa with a traditional hamman. The estate also features an organic farm, whose produce supplies the hotel's kitchens.
The Fairmont offers gracious hospitality and outstanding cuisine at its variety of bars and restaurants; including the Al Aïn, where you may discover traditional Moroccan food in sumptuous surroundings. Enjoy the stunning views al fresco over a pool-side lunch at L'Olivier, and later, you could settle into a sofa and contemplate the diverse sensory delights of Marrakech over a cocktail or two.
fairmont.com (opens in new tab)
Melina Keays is the entertaining director of Wallpaper*. She has been part of the brand since the magazine's launch in 1996, and is responsible for entertaining content across the print and digital platforms, and for Wallpaper's creative agency Bespoke. A native Londoner, Melina takes inspiration from the whole spectrum of art and design – including film, literature, and fashion. Her work for the brand involves curating content, writing, and creative direction – conceiving luxury interior landscapes with a focus on food, drinks, and entertaining in all its forms