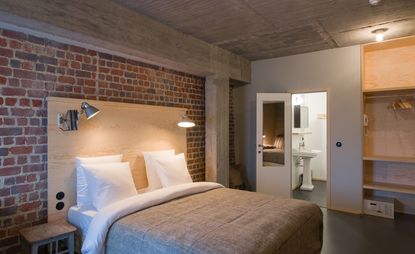 (Image credit: TBC)
The design and fashion crew are crowding the newly opened Jam Hotel in the increasingly gentrified Janson corner of Brussels. The former St Luc School of Design has received a total makeover from local hotel-hero Jean-Micheal André (Le Berger, Chelton and Château de la Poste) and his architect accomplice Olivia Gustot.
There is plenty to celebrate in the secluded top floor bar and terrace or when catching the late evening sunshine from the adjacent roof top pool, the only one in the Belgian capital. Furniture-maker turned interior architect Lionel Jadot sets a bold tone at the entrance with a daring Constructivist approach of sculptural concrete that veers towards the collage-like Merzbau vision of Kurt Schwitters. Jadot further develops this approach with decorative ply sheeting painted in a Mondrian-esque colour palette and ingenious bespoke pendant lamps. Here in the street level bar and Italian restaurant an excellent assortment of antipasta, primi and pizzas are served.
In a category disrupting move the 78-room hotel includes several three and 4 double-bed rooms and the Giga-Room, an 18-bed dormitory. Guest rooms interiors adopt a comfy yet back-to-basics approach with poured concrete floors, untreated wood and exposed electrical conduit. Layered on this are cosy Moroccan textiles, reclaimed lamps and seating, fluffy sheepskin rugs and miniature cacti in abundance.
INFORMATION
ADDRESS
132 Chaussée de Charleroi
VIEW GOOGLE MAPS (opens in new tab)