Porsche 911 Turbo S still defines the spiritual heart of the company
Few sports cars have the record and results of Porsche's 911, a sports car for all seasons. The eighth generation machine stays true to the original blueprint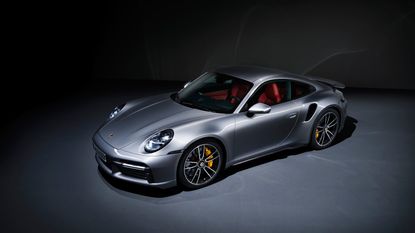 (Image credit: Porsche)
What is there left to say about the Porsche 911? The evergreen sports car has weathered an evolution that has seen it through nearly 60 years and eight generations, giving Ferry Porsche's original icon of sporting simplicity a breadth of ability and diversity that would have been unthinkable back in the early 1960s.
The modern 911 and its many, many derivatives can run rallies, climb mountains, beat £1m hypercars off the line, win global racing championships and function as a practical everyday car that can, at a pinch, even serve a smallish family (except perhaps in elaborate Targa-topped version).
With Porsche's electrification strategy roaring forwards, the current generation of 911 (internally designated 992) is likely to be the last available solely with an internal combustion engine. This is both a blessing and a curse. The former because Porsche's engineers are second to none and have already demonstrated they can build a world-beating sporting EV (the Porsche Taycan Cross Turismo).
It's a curse, because so much of the 911's character has been bound up in the evolution of its engine, from the original's air-cooled flat-6 'boxer' engines, through to pioneering developments in turbo-charging, a race-derived system that uses the waste energy of exhaust gases to spin a turbine that draws more air into the engine, increasing the combustion rate and hence power output.
This is the top of the 'stock' range of current 911s, the 911 Turbo S. The first turbo-charged 911 appeared in 1972 and quickly laid bare the shortcomings of the 911's unconventional layout. Sticking an engine over the rear axle while finding space for rear seats beneath a swooping coupé form was a fiendish trick of packaging. It was also fundamentally unbalanced, and as 911s got heavier and swifter, they acquired a fearsome reputation as a car that could quickly become unstable in inexperienced hands.
Just as the lore and physics of turbo-charging will soon pass into history, it's also unthinkable for a modern car maker to release a fundamentally unstable machine. Today's 911 Turbo has four-wheel drive and modern traction control systems, excellent balance and unimaginably better aerodynamics than its ancestors. The 911 no longer has any handling demons, but the fact remains that the car is, and always has been, a compromise pushed to the very limits of what's possible.
The evolutionary process has also been mostly kind to Ferry Porsche's original shape. A 911 has one of the strongest and most recognisable silhouettes of any production car, regardless of generation, and the 992 continues this graceful ageing process. Every 911 is a delight to drive, thanks to its combination of ergonomic back-to-basics and direct, responsive steering. Porsche set the original gold standard for a sports car you can use every day, and the modern 911 shows no sign of relinquishing that role.
In Turbo S guise, you get rather more brutishness. A 2.7-second sprint to 62mph, and a 205mph top speed are still impressive, even in this age of hypercars and lightning-fast EVs. Even the fuel consumption remains palatable, certainly in comparison with the last examples of V8 and V12 engines that you'll find in its competitors.
However, it's not a stretch to say that this kind of performance is largely redundant in the modern world. If you're seduced by the shape and basic package, then the most basic 911 will surely suffice. If you have the means and space to explore the limits – such as a racetrack – then specialist variants like the 911 GT3 and GT3 strip out the luxuries and focus on the lap times.
Where does that leave the Turbo? As an everlasting icon, for sure, regardless of what the future brings. The next 911 will include some level of hybridisation, a move that risks adding even more complexity to what was once considered the most purist and honest of all sports car forms, albeit a little flawed in conception. It's a challenge Porsche is no doubt tackling with relish.
Porsche 911 Turbo S, from £168,000, Porsche.com (opens in new tab)
Jonathan Bell has written for Wallpaper* magazine since 1999, covering everything from architecture and transport design to books, tech and graphic design. He is now the magazine's Transport and Technology Editor. Jonathan has written and edited 15 books, including Concept Car Design, 21st Century House, and The New Modern House. He is also the host of Wallpaper's first podcast.