Maybach by Virgil Abloh imprints the late designer's style on the Mercedes flagship
Mercedes-Benz unveils the Maybach by Virgil Abloh, a limited edition of 150 and a very distinctive take on automotive luxury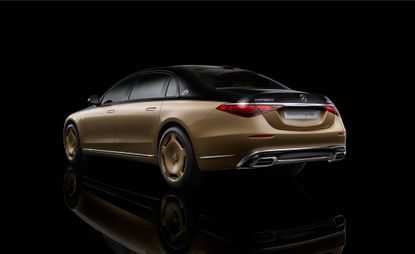 (Image credit: mercedes-benz.com)
The late Virgil Abloh was a master of the 'collab', expert at pointing established brands in new directions, recontextualising trusted design tropes, and all the time interrogating the language and signifiers of luxury and good living.
All of that played out in his creative relationship with Mercedes-Benz and the group's chief design officer Gorden Wagener.
The pair collaborated on a one-off, raw-finished reworking of the Mercedes G-Class in 2020 (Project Geländewagen) and a conceptual off-road grand tourer, tagged Project Maybach and revealed at Design Miami in December 2021, just days after Abloh's passing (and with his family's sign-off).
The ultra-luxe wing of the German car giant has just unveiled a third Abloh collaboration, the limited-edition Maybach by Virgil Abloh.
The new design, finalised just before the designer's death at just 41, is not an experimental reimagining but rather a bespoke edit of the Mercedes-Maybach S-Class S680 that will be produced in a limited run of 150.
The new car picks up on the two-tone colour combination Abloh devised for Project Maybach, a glossy obsidian black lacquer set atop a shimmering sand. This scheme continues in the Napa leather-lined interior.
Abloh also got to work on the car's digital displays, creating a bespoke luxe user interface for the special edition car.
'Virgil had such a holistic way of approaching design – it was not just about the product in hand, but the whole narrative and inspiration around it,' says Wagener, adding that Abloh had a 'question everything' approach.
Wagener describes the new car as a kind of drivable 'trickle down' distillation of Project Maybach's conceptual design (though most customers will probably be driven, and in some style. Even without Abloh enhancements, the S680, launched last year, is a chauffeur-ready luxury sedan of the first order, bristling with technology, hand-crafted materials and engineering refinements).
'Together with Virgil, we broke up existing design idioms,' adds Wagener. 'Over the years, automotive design has perfected aerodynamic shiny surfaces. In our collaboration, we experimented with monolithic forms or sanded-down surfaces which led to the more "raw" appearance of Project Geländewagen. Launching a street-legal model limits creativity but we are proud of bringing a piece of the collaboration to those who want to be part of it.'
A capsule Off-White/Project Maybach fashion collection, launched alongside the S-Class, is a slightly more accessible way of buying into the partnership's creative legacy. The collection includes sand-coloured T-shirts, hoodies, and crewnecks as well as baseball caps and driving gloves.
The Maybach by Virgil Abloh boasts a hefty and hugely refined V12 engine, but Mercedes says it will launch its first fully electric Maybach model in 2023, an electric SUV that will share technology with the acclaimed Mercedes EQS. An electric Abloh-designed production car – the Project Maybach concept was imagined as all-electric – might perhaps have been a more fitting tribute to the partnership. As Wagener says, though, Abloh was an auto enthusiast, and his last Maybach is a distinct, elegiac celebration of a particular kind of luxury.
INFORMATION
Receive our daily digest of inspiration, escapism and design stories from around the world direct to your inbox