Ten tech essentials for working-from-home happiness
From the ultimate dictaphone to a cool coffee maker, new tech to bring elegance, efficiency and ease to the home office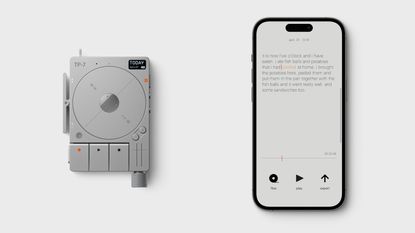 (Image credit: Teenage Engineering)
Necessary evil, productivity buzzkill or introvert's dream? Working from home continues to be a divisive practice, with some employers grudgingly giving in to pandemic-driven patterns of change and others resolutely herding workers back to their cubicles. This selection of new tech should help transform your domestic space into a harmonious and productive home working space.
Ten tech essentials to ease working from home
---
1. Charcoal smart standing desk
Charcoal is an American brand that builds sophisticated, standing home office desks. Available in both small and large sizes, the Charcoal desk isn't just a high-rise surface that'll save your back and circulation. To benefit from the desk's abilities, you need to surrender to its array of sensors, filtered through a companion app, and follow its advice to have some downtime when it figures your productivity is lagging.
Charcoal's CEO and co-founder Arjun Ashok describes the desk as helping 'us use our brain the way it's designed to function … this profoundly affects our daily living'. The desk height can be adjusted using discreet motors, with a glossy acrylic surface and inbuilt haptic feedback that'll communicate when it's time to take a break.
Charcoal Desk, from $1,199, Charcoal.inc
2. Dyson 'CSYS' desk light
Away from home hygiene and dust-busting, Dyson has a healthy side hustle in lighting design, spearheaded by chief lighting engineer, and 'son of', Jake Dyson. The company's 'CSYS' desk light is designed for longevity and eye-saving luminance. To achieve this, the LED light source has an extremely low optical flicker, near daylight-level colour balance and a special cooling technology that the company claims gives the 'CSYS' a 60-year lifespan.
Available as both a desk and floor lamp, the carefully balanced arm can be precisely positioned without the need to be constantly readjusted, the illuminated stem gives an ambient glow, and dimming is achieved by a simple touch-sensitive slider.
Dyson CSYS Dyson Solarcycle Morph desk light, from £499.99, Dyson.co.uk
3. Philips Brilliance curved monitor
You're spoilt for choice with the current generation of curved desktop displays, intended to better mimic our natural eye position and ability to take in information in our peripheral vision. Our choice is Philips' Brilliance series, in particular this 34in curved UltraWide model.
Capable of displaying 3440 x 1440 pixels in a 21:9 format, the monitor includes a pop-up webcam within the bezel that can be tucked away when not required, and also has sensors to use Windows' face-recognition sign-in technology. There's a built-in USB docking station to connect and charge up to four devices, with both HDMI and USB-C connectivity.
Philips Briliance Curved UltraWide LCD Monitor with USB-C 346P1CRH/00, £570, Philips.co.uk, Amazon.co.uk
4. NuPhy Field75 wireless mechanical keyboard
NuPhy's new Field75 is billed as a wireless mechanical keyboard for gamers, but its rugged form, old school-style keys, and click-clacky action make it a physically delightful object with which to bash out a few hundred words. The nearest thing to a digital typewriter, the Field75 has a slight whiff of dieselpunk (according to the company), as well as the form and palette of AI-inspired science fiction visions, with names to match – Gravity, Ethereal and Noether. We especially like the metal volume knob, which syncs perfectly with the mechanical ethos of a key that travels and clicks, rather than simply squishes beneath your fingers.
Field75 by Nuphy, $159.95, NuPhy.com
5. Grovemade desk shelf system
Wallpaper* favourite Grovemade isn't exactly at the cutting edge of technology; its wares are designed to prop up, support, sort, and organise the myriad connections, devices, cables and professional detritus that clutters up the workspace. For a hefty monitor stand, with space to store a laptop or two, the elegant Desk Shelf is a solid bet, available in three sizes and a number of finishes. Based out of facility in Portland, Oregon, the company prototypes and does limited manufacturing in-house, selling a wide variety of well-crafted stands, tools, and accessories.
Grovemade Desk Shelf in solid oak, medium, $300, Grovemade.com
6. Nomad Stand One Magsafe wireless charger station
Nomad's Stand One is a must-have desk accessory (see our pick of other wireless chargers too), a simple, monolithic wireless device that doubles up as a mount for your iPhone in either portrait or landscape format. Rated to offer MagSafe fast charging at up to 15W, the Nomad Stand One is available in carbide and silver finishes and wouldn't disgrace any desk.
Nomad Stand One MagSafe Charger, $110, NomadGoods.com
7. Brother HL-L2350DW Wireless Mono laser printer
You'll struggle to find a desktop printer with enduring looks and a minimal carbon footprint in this era of pricey ink and disposable hardware. If you have to print – and, let's face it, many of us rarely do – then Brother's HL-L2450DW is as close to a classic as this notoriously visually challenged sector gets. For a start, it's a laser printer, so you won't be subjected to inkjets' perishing thirst. It's also wireless, meaning you can print from your phone and Chromebook as well as conventional PCs. Finally, it has a squared-off, sober look that's more than acceptable.
Brother HL-L2350DW Wireless Mono Laser Printer, £129.50, Brother.co.uk, Amazon.co.uk
8. Teenage Engineering TP-7 Field Recorder
The Swedish wizards at Teenage Engineering happily throw cost considerations out of the window, creating music-making devices (such as the OP-1 Field) and accessories that are refined, beautiful and eye-wateringly expensive. The new TP-7 is no exception. Ostensibly designed for making field recordings, for music, sound-effects, broadcasts, and so on, the TP-7 is a miraculously elegant piece of product design.
Shaped to fit in the hand, the tiny device has a lever for fast forward and rewind, a small but vivid screen with time, date and play counter, VU meters, internal microphone, speakers, three different 3.5mm audio in-points, a dedicated companion app and USB-C. The pièce de résistance is the wheel, which spins to indicate recording or playback and can be physically stopped or scrubbed back and forth to locate a particular section of audio. With 128 GB of internal storage and a dedicated transcription function in the app, this is a powerful tool for a number of trades.
Teenage Engineering TP-7, £1,299, Teenage.Engineering
9. Google Pixel Tablet
Google's new Android tablet aims to combine the functionality of a hand-held screen with a dockable display that just happens to run Google Assistant and stream video and audio. An excellent desktop companion, the Pixel Tablet will double up as a video calling unit, a multifunctional information display, a digital picture frame or simply a digital assistant that'll take notes using Google's voice typing. A separate case features a metal stand for different viewing angles.
Google Pixel Tablet, from £599, Store.Google.com
10. Meticulous Espresso home espresso machine
Finally, no work space is complete without a source of energy. When it comes to a coffee maker, we've got our eyes on the forthcoming Meticulous Espresso home espresso machine. The innovation here is a robotically controlled lever, ensuring the pressure is perfect every time, thanks to a bunch of sensors and a powerful digital motor. With an integrated scale, neat circular UI and an app filled with endless tweaking options, this elegant object is crowdfunding now. Here's hoping it works as well as it looks.
Jonathan Bell has written for Wallpaper* magazine since 1999, covering everything from architecture and transport design to books, tech and graphic design. He is now the magazine's Transport and Technology Editor. Jonathan has written and edited 15 books, including Concept Car Design, 21st Century House, and The New Modern House. He is also the host of Wallpaper's first podcast.