Bread winners: beautiful bakeries for design (and cake) lovers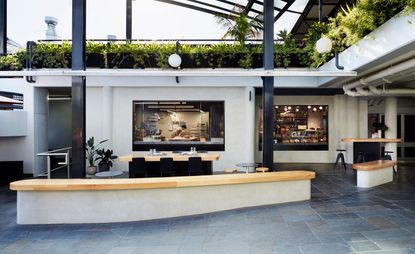 (Image credit: press)
Wallpaper* Newsletter
Receive our daily digest of inspiration, escapism and design stories from around the world direct to your inbox
Thank you for signing up to Wallpaper. You will receive a verification email shortly.
There was a problem. Please refresh the page and try again.
Bakeries are not the quaint, floury hide-outs they once were. A new breed of high design hot spots has risen beautifully the world over, like a good sourdough. From a hidden 1920s gem in New York, to no gluten-zones in Paris, here's all the best ones you knead to know about...
Benk + Bo
London, England
London's penchant for multifunctional hubs continues apace with the arrival of Benk + Bo, a cafe-bakery in Spitalfields that also functions as a shared workspace and yoga studio. Having stripped all three storeys of the original 1960s Brutalist building to their concrete core, owners Antony Burger and Mariell Lind Hansen set about infusing the space with an aesthetic that's equal parts minimal Scandinavian and mid-century modern.

By day, the space serves a variety of patisserie – both Scandinavian and Parisian – to its community of creatives and freelancers, as well as satisfying brunches, vegan plates and artisanal toasties made with fresh bread baked daily by Julien Valmier, ex-head baker at the Savoy Hotel. When evening comes, the space plays host to a melange of events, including dinners by the likes of whole food restaurant 26 Grains and fêted chef Romy Gill. Writer: David Paw
Noglu
Paris, France
It almost seems inconceivable that Parisian kitchens would ever deign to acknowledge a food fad, much less one that's based on allergies, and yet, Noglu is the exception that proves the rule. The self-styled gourmet gluten-free 'boutique restaurant chain' now has three outlets – its latest arrived in Paris' seventh arrondissement two years back, provocatively in a neighbourhood bristling with purveyors of cheeses, breads and full-creamed pastries.

The prolific Mathieu Lehanneur temporarily put aside his hat as Huawei's chief designer to work on the small 26-cover café, restaurant and patisserie, carving out a jewelled grotto of undulating apertures and dreamy nooks. A stone wall, he said at the time, 'references the fact that we came from caves and that we're never that far away from them when it comes to questioning our origins and what we've become. We're primitive beings that have been civilised.' Photography: Michel Giesbrecht
Winterspring
Copenhagen, Denmark
Breakfast, dessert, ice cream: the three main food groups. Winterspring is owning each. The famed Copenhagen sweets specialist, which was until 2018 a to-go caterer, has provided its delicious delicacies a much deserved bricks-and-mortar home, and we're eating it up. Located in the heart of the city – which is becoming a tapestry of beautifully designed eateries – the small shop has been sensitively completed by Studioilse, led by Ilse Crawford. Known for her human-centric approach, the intimate space is designed to celebrate Winterspring's Nordic sensibility; to bring people together, and focus on small, impactful moments, rather than grand, showy statements.

Every detail has been considered: a collection of Swedish ceramics rotates with the changing menu, embroidered linens bless the tables, catching spills from handblown glassware, through to the cutlery by Soru Yanagi and borosilicate glass teaspoons by London's Max Frommeld, that encourage you to savour dessert. Photography: Ditte Isager
Miyagawa Bagel
Miura, Japan
The creation of spaces, simple yet imbued with soul, is what Japanese achitecture firm Roovice specialises in. Sensitive restoration was the order of the day in the coastal village of Miura in 2015, when this former fishing-gear warehouse was transformed into a bagel bakery.

Lined with Meranti – a wood native to Southeast Asia which is said to have its origins in Japan – the idea was to bring the surrounding natural environment closer into the shop. Likewise, the exterior walls were replaced with corrugated plates of polycarbonate, which let light and green shades shine through.
Q Le Baker
Melbourne, Australia
A new bakery by French-born baker Quentin Berthonneau has arrived in Melbourne's number one food destination, Prahran Market. The new store occupies a prominent corner stretch of the Market Square, with a fit-out by South Melbourne interior designer Adele Bates that features two windows with views into the baker's bright kitchen.

Soft surfaces of textured cement render are accentuated with bold, dark timber box-frame openings, drawing the eye to the theatre of the bakery, whilst dark marble bench tops from Glux bring focus to the products. The lighting from Dowel Jones adds to the theatre in a subtle ode to Hollywood style with round globes that emulate a dressing room mirror. In contrast, offerings are kept simple, artisinal and understated – the sourdough croissant is of particular note. Photography: Christine Francis
Po's Atelier
Hong Kong
Nestled on a tiny lane in Hong Kong's Sheung Wan neighbourhood is Po's Atelier, founded by art director Vincent Cheng and photographer Jonathan Leijonhufvud. The duo met while studying photography in London and were inspired to open the bakery and café, which has minimalist interiors and bespoke blonde-wood counters, after visiting some of Japan's boutique bakeries.

They partnered with renowned Japanese master baker Masami Asano to create their distinctive range of French-Japanese artisan breads, all baked from scratch on site. Back in 2012, they even created a special Wallpaper* bread for us. Learn how to make it for yourself.
Fortunata y Jacinta
Morelia, Mexico
Morelia is 'a touristic city without tourists', says Argentinian architect Luis Laplace. Based in Paris, where he has run his own practice (with co-founder Christophe Comoy) since 2004, Laplace had never visited Mexico before first going to Morelia three years ago. Since then, he's spent quite a bit of time in this city, renovating a 4,000 sq m property overlooking the central plaza.

Built in 1730, the property was run-down but beautiful, a typical Hispanic Mexican stone mansion with courtyards. It had been the birthplace of Don Mariano Michelena, one of the original conspirators plotting Mexico's independence in 1809. Michelena also introduced the coffee plant to his country, which is appropriate, since the new project includes a café / bookstore, restaurant and bakery. Fortunata y Jacinta is run by a baker who mixes French traditions with native flavours. Photography: Alejandro Cartagena
Arcade Bakery
New York City, USA
One-time television producer Roger Gural makes perfect pain, hidden inside the arcade of a 1920s Tribeca office building, developing a cult following through the city. Peer down the hall of 220 Church Street and you won't see Arcade Bakery, but you'll smell it. Following the miles of honey-wood walls, wafts of fresh bread, pizza, and whiskey-pecan babka invite you deeper. The bakery window itself is built into a far wall, and the tables fall out of the walls – the handiwork of Workstead – an ingenious solution to the problem of the arcade's sloping floors. Workstead removed glass from pre-existing display cases, refinished them with wood, then added them to the fold-down table tops.
Receive our daily digest of inspiration, escapism and design stories from around the world direct to your inbox
Melina Keays is the entertaining director of Wallpaper*. She has been part of the brand since the magazine's launch in 1996, and is responsible for entertaining content across the print and digital platforms, and for Wallpaper's creative agency Bespoke. A native Londoner, Melina takes inspiration from the whole spectrum of art and design – including film, literature, and fashion. Her work for the brand involves curating content, writing, and creative direction – conceiving luxury interior landscapes with a focus on food, drinks, and entertaining in all its forms