Po's Atelier bakery and café, Hong Kong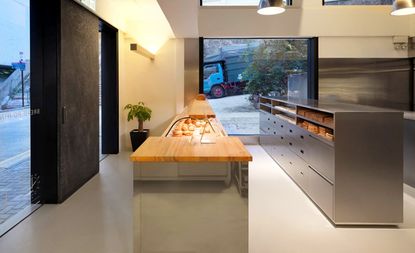 (Image credit: press)
At Wallpaper* we expect as much from our daily bread as we do from architecture, fashion or art. So when we discovered newly opened Po's Atelier on a tiny lane in Hong Kong's Sheung Wan neighbourhood, we asked the founders, art director Vincent Cheng and photographer Jonathan Leijonhufvud, to create a special Wallpaper* bread.

The duo met while studying photography in London and were inspired to open the bakery and café, which has minimalist interiors and bespoke blonde-wood counters, after visiting some of Japan's boutique bakeries. They partnered with renowned Japanese master baker Masami Asano to create their distinctive range of French-Japanese artisan breads, all baked from scratch on site.

The recipe

Ingredients
100g unbleached flour (preferably Decollogne Bio One Territoire T65 or Nisshin Seifun)
2g salt
2g dry yeast
0.5g sugar
70g water
1 whole tomato or 12 cherry tomatoes
Handful of fresh herbs (such as basil)

Steps
Mix flour, salt, yeast, sugar and water in mixer on low speed for 8 minutes
Change to high speed for 5 minutes
1st fermentation: let dough rest at room temperature (24-25°C) for 45 minutes
Knead and press the dough to allow the gas bubbles to escape, then shape into a flat disc
2nd fermentation: still at room temperature for an additional 30 minutes
Preheat the oven to 185°C
Divide the dough into 80g wedges, flatten to desired shape, and press thinly sliced pieces of tomato onto the surface
Place on tray and bake in the oven for 15 minutes
Check for an even, golden-brown colour
Sprinkle with fresh herbs to taste and bon appétit!