Studio MVW's Aoyama Lab dessert bar channels French design in Beijing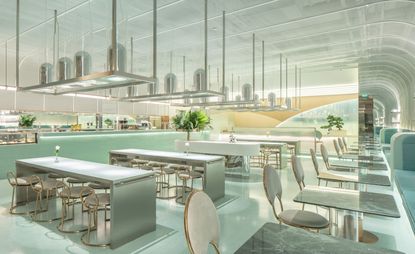 (Image credit: press)
Studio MVW – made up of French architect Virginie Moriette and Chinese designer Xu Ming – has designed the Aoyama Lab Dessert Bar, opening in Beijing. Using interior surroundings to enhance culinary experience, the Bar thoughtfully meshes the sensibilities of the duo's contrasting heritages. The east-meets-west aesthetic is reimagined and subtly fused into their sculptural work.

Aoyama Lab serves a selection of sophisticated desserts based on innovations on traditional Japanese recipes, from choux buns and Aoyama rolls to two kinds of Mille Crepe. The mentalities of experimentation and modernisation channelled through the desserts are reflected in Studio MVW's designs. The exterior advertises the dessert bar (known in its name as a 'lab') as something more akin to a 'high-tech oasis' through sleek, metallic lines. The use of glass and mesh is prominent, emphasising a sense of lightness and transparency, an homage to the meticulously layered desserts sold at the lab.
The concept of the dessert bar is decidedly novel – it is separated into a front and back section, with each serving different purposes. The front functions normally as a dessert shop, where the customer can purchase and sample the rich variety of treats on offer. As you retreat to the back, you discover a sanctuary dedicated to tea drinking, where the incorporation of natural materials like wood and stone soften the otherwise stark space.

Studio MVW chose celadon as the primary colour scheme. The subtle green is reminiscent of jade pendants traditionally worn around the neck for good luck. The integration of natural hues with the clean, almost industrial Kubrick-esque shapes display an example of the beautiful coexistence of nature with modernisation.
INFORMATION
For more information, visit the Studio MVW website