Heaven scent: a major new exhibition celebrates modern fragrance culture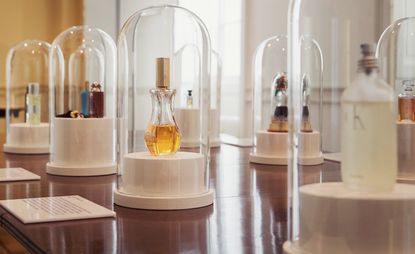 (Image credit: Peter MacDiarmid)
Opening in the East Wing Galleries of Somerset House is an exhibition that explores the changing profile and role of scent in the 21st century.

Perfume never makes for an easy subject to show in a white-washed exhibition space. But Somerset House senior curator Claire Catterall and scent writer Lizzie Ostrom have freshened up the approach to exhibiting fragrance, putting the spotlight on ten contemporary smells that tell the story of how scent has evolved over the past two decades, while showcasing them in arresting ways.

Removing bottles and packaging from the equation and using visual, auditory and tactile prompts alongside the scent itself, each of the exemplary perfumes inhabits a set designed by Muf Architecture/Art. The visitor is invited to pick up a pad and paper and take the journey through the ten spaces, making their own notes on what they experience. There is a break after five, to catch up with which scents have been experienced, who the nose for each is, what the ingredients are, and again for the next five at the end. The staging is unique for each – one evokes white sheets drying on a line, one a catholic confessional, one a crumpled bed.
'Perfume isn't just about being sexy and alluring anymore – now we not only want to smell different to everyone else but different to before,' says Catterall summing up the drive behind her curation. 'Perfume isn't about fashion any more, it's not worn as an accessory. It's experienced more like a book, to make you cry or laugh, to transport you somewhere else.'

The perfumes on show are the work of both classically-trained and the ever-growing category of self-taught perfumers, equal credence being given to both. 'Perfumers are not talking to us through the filter of a company,' says Ostrom. 'It's not just about big billboard and TV Ad campaigns, stories are told through text and film.'

Constructed from natural materials and synthetics, they are a mixture of the experimental, the challenging, the poetic and the prosaic, but all are ruthlessly modern, and pushing away from classical perfumery. The noses whose works are featured include Lyn Harris of Perfumer H, Antoine Lie, Mark Buxton, Bertrand Dushaufour, Oliveia Giacobetti, Geza Schoen, Andy Tauer, Killian Wells, and David Seth Moltz.

The last space is occupied by a perfume laboratory run by co-sponsors Givaudan (other sponsors are Coty, Peroni Ambra and Liberty London). Each Thursday to Saturday, it will host residencies. New scents will be created from scratch, under the noses of visitors. On the 25 July and 29 August, workshops will be hosted here in collaboration with the Experimental Perfume club, during which partakers can create – and name – their own signature scent.
INFORMATION
'Perfume: A Sensory Journey Through Contemporary Scent' is on view until 17 September. For more information visit the Somerset House website (opens in new tab)
ADDRESS
Somerset House
Strand
London WC2R 1LA
VIEW GOOGLE MAPS (opens in new tab)