Spirited away: Nordic Spirits Lab is shaking up the drinks industry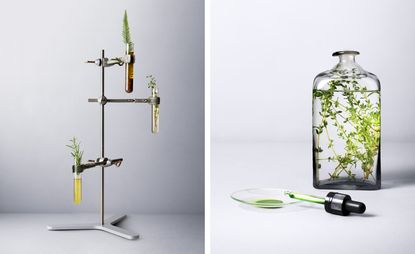 (Image credit: Nordic Spirits Lab)
'There really hasn't been anything interesting in spirits coming out of the Nordics for a long time,' reflects Tobias Dahlberg, founder and managing director of Wonder Agency, a strategic design and innovation agency in Helsinki, Finland. 'In the past, there was Absolut and Finlandia, but they really aren't very Nordic anymore, since both brands have been sold to international corporations.'

On behalf of Altia, a leading wine and spirits company in the Nordic and Baltic regions, Wonder Agency was asked to create a new product and brand for the domestic market. The outcome, Nordic Spirits Lab, is something altogether different – a pan-Nordic platform for collaborative experimentation and groundbreaking innovation. 'We started asking ourselves other questions, that go far beyond the conception of a single product. Questions that touch on the future in the consuming of alcohol, for example.'
Gathering the best and the brightest – Tony Conigliaro, pioneering drink creator at Drink Factory in London; Sayan Isaksson, chef at Esperanto in Stockholm; Peter Altenburg, founder of Gilt in Copenhagen; Chris Grøtvedt, bar manager at The Thief in Oslo; Laura Nissinen, head bartender at A21 Decades in Helsinki; and Tor Arne, former bar manager at Nichol & Son in Oslo, as well as Daniela Walker, insight editor at The Future Laboratory in London – the experimental platform taps into the minds of innovators, creators and early adaptors both inside and outside of the spirits industry.

Social, commercial and scientific dimensions of production and consumption are dissected, picked apart, and then reassembled in new ways. A string of planned conceptions, being launched in May 2017, include new products, flavours, experiments, ways of consumption and, last but not least, progressive solutions to some of the age-old issues that excessive drinking may cause.

G.01 is the first product to come out of the Nordic Spirits Lab platform, and is a distilled hybrid gin with akvavit botanicals. With flavour components such as coriander, angelica and lemon peel – common for gin and akvavit – caraway and dill add that extra touch that makes it distinctly Nordic in flavour. Available for order via Swedish liquor store Systembolaget, and at a select few Helsinki bars such as Holiday, the minimalist white bottle design is sure to stand out on the bar shelf. 'This really is a product for pros, which is the reason we kept the information of the bottle to a bare minimum,' says Dahlberg.
INFORMATION
G.01, from SEK329 per bottle. For more information, visit the Nordic Spirits Lab website