Source code: fragrance power duo Ostens are rediscovering perfume's pure hit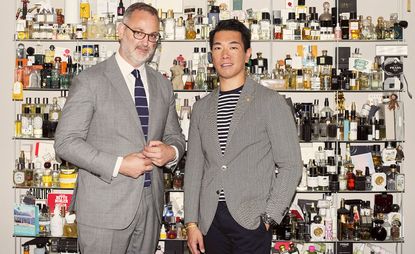 (Image credit: Ana Cuba)
Wallpaper* Newsletter
Receive our daily digest of inspiration, escapism and design stories from around the world direct to your inbox
Thank you for signing up to Wallpaper. You will receive a verification email shortly.
There was a problem. Please refresh the page and try again.
Navigating aroma apathy to make an impact on the overcrowded perfume market is becoming a serious challenge for scent entrepreneurs, but our bets are on Laurent Delafon and Christopher Yu, of United Perfumes, to shake things up with their latest project.

The pair are launching Ostens with five single-ingredient scented oils (Ostens Préparations) and six perfumes (Ostens Impressions). With a name plucked from Baudelaire's Harmonie du Soir, its art-loving founders, like many before, are creating synergies between scent and art, but the real innovation comes in the experimentation with ingredients and formulas, and the novel way they propose to retail the line.
Delafon and Yu have been partners in the business of fine smells for many years. Delafon, a Frenchman, came to London in 2001 to set up Diptyque in the UK, while Yu, a New Zealander, has a background in finance. Together they brought Cire Trudon to the UK and formed a consultancy called United Perfumes.

The pair pitched to Fornasetti with a plan to develop a home fragrance line. They were soon in Grasse, scent central, and exploring olfactory angles at IFF-LMR, a leader in the creation and development of raw materials for fragrances.

Ostens is the product of this immersion; scent for a savvy consumer. Delafon is quick to call out the fake stories attached to ingredients. 'You hear about jasmine or rose de mai, picked by virgins from the Grasse heartland, or Indian girls with delicate fingers who don't crush the molecules – it's all nonsense. It's a curtain of romance that shields all the technology, passion and talented people behind it,' says Delafon. 'The romantic side shouldn't disappear, but there needs to be a fair balance with transparency and traceability.'
The pair were particularly captivated by IFF-LMR's ability to transform perfume's raw materials, chipping away dusty, dirty aspects to produce cleaner, crisper notes. 'They are the Harry Winston of the industry,' says Delafon. 'Perfumers like Jean-Claude Ellena go to IFF-LMR and say "I love this rose but I don't like the freshness of it. I want it more jammy", and IFF-LMR fractionate and cut out these facets.'

This was in their mind when a friend asked them to source some pure jasmine oil for personal use. They went to IFF-LMR and asked if they could make one, but soon found themselves in a minefield of industry rulings on concentrations, giving an insight into why nobody else was attempting such a thing. It made them determined to produce pure and traceable fragrance oils with the maximum possible concentration of scent (in a carrier oil) that the skin can tolerate.
You hear about jasmine or rose de mai, picked by virgins from the Grasse heartland, or Indian girls with delicate fingers who don't crush the molecules – it's all nonsense.
The oils, which became Ostens Préparations, also formed the starting point for the Ostens Impressions range. A number of perfumers were given the oils and carte blanche to create a fully fledged fragrance. Superstar nose Dominique Ropion, commissioned for the Isparta Rose Impression, revelled in the 'no brief ' proposal, pushing the rose content so high that it no longer smells floral, but rather dense and sensual. Supported by cardamom and musk, both men and women could wear it. Sophie Labbé, who created the Cashmeran Velvet Impression, found her ingredient human and comforting. It made her think of hands rolling tobacco. Clément Gavarry scrubbed up the animalic jasmine note into an Impression that is sunny and modern, while Alexis Didier, who was charged with the Cedarwood Impression, riffed on cold pipe tobacco to produce something sophisticated, masculine and nostalgic. Labbé also made two Impressions for patchouli. One has immortelle and labdanum and is intensely resiny, the other has Japanese incense, violet leaves and iris and is powdery and feminine.
Ostens is something of an evolution of the Frédéric Malle formula, which has dominated the niche fragrance market for more than 15 years. It's perfumer-led perfumery, with an emphasis on ingredient. 'We ask perfumers what would you do with this ingredient, then step back and watch the fireworks. We are fragrance arsonists,' says Yu. Customers are also handed the reins in this new grown-up approach. The oils can be worn alone or layered with the Impressions or other perfumes entirely. Though keen not to step on toes, Delafon and Yu encourage cross-brand use. 'We want a two-way conversation with customers – "inspire us, what have you done with our product?",' says Yu.

Their retail strategy is a response to the complexity of their scents' stories. 'We would be lost in the "spray and pray" arena of the department store,' says Delafon. 'The message would die.' They prefer to communicate with customers online and in small intimate spaces, such as pop-ups in galleries, targeting a new type of customer, one who is clued up, who knows where their onions come from, who can confidently mix Uniqlo and Marni, and who cares about sustainability.
A version of this story originally appeared in the October 2018 issue of Wallpaper* (W*235)
INFORMATION
On view until February 28. For more information, visit the Ostens website
ADDRESS
62 Blandford Street
Marylebone
London, W1U 7JD
Receive our daily digest of inspiration, escapism and design stories from around the world direct to your inbox