Nicholas Daley's multicultural roots celebrated in London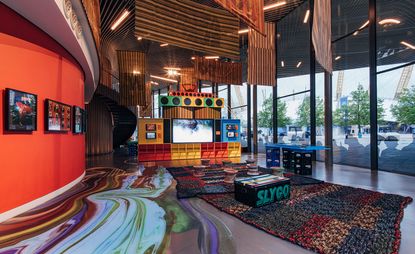 (Image credit: Charles Emerson)
Whether it's po-faced editors surveying a line of models at a runway show, or exhibition visitors peering through glass vitrines at lifeless clothing, there's an air of detachment around how clothing is received or displayed on the catwalk or in a gallery. Jamaican-Scottish menswear designer Nicholas Daley doesn't subscribe to either method of presentation. His community- and-heritage-celebrating catwalk shows in London throb with the drumbeats and saxophone screeches of reggae, dub and jazz. Musicians blow tubas and bang cowbells on the catwalk, and encourage guests to get up from their seats and dance. Daley's immersive approach closely aligns with that of Jemima Burrill, co-curator of Greenwich Peninsula's Now Gallery.

Launched in 2015, the gallery has presented a series of open-access fashion exhibitions, which encourage burgeoning designers – including the likes of Phoebe English, Richard Malone and Mowalola – to innovate and explore personal identity.
Discover Nicholas Daley's 'Return to Slygo' exhibition
'You can't present fashion on mannequins,' Burrill says of the multi sensory inclination behind 'Return to Slygo', a show that celebrates the diasporic inspirations behind Daley's label with a smorgasbord of presentational styles, from graphic vinyl art to large-scale salvaged textiles. The designer, who graduated from Central Saint Martins in 2013, launched his eponymous brand in 2015, and was a joint winner of 2020's LVMH Prize, weaves the history of Black music culture and the heritage of craft into his colourful, textural and technique-focused designs.

They reference Reggae Klub, the revolutionary music night that Daley's Scottish mother and Jamaican father founded in Dundee in the 1970s, dub pioneer Lee Scratch Perry, cosmic jazz group Sun Ra Arkestra, and the matrilineal heritage of jute weaving in Daley's family. Dundee was seen as the epicentre of coarse textile production during the industrial revolution. It still boasts the largest jute production in the world, outside India and Pakistan.

Now Gallery has a history of offering designers a platform for experimentation. In 2016, Molly Goddard scaled up her mille feuille-like layered dresses, suspending 7m-long transparent gowns from the gallery's ceiling, which guests were invited to embroider. In 2018, Charles Jeffrey worked with sculpture for the first time, constructing colourful forms from fibreglass, papier-mâché and PVC, which welcomed viewers into his hedonistic club night-inspired universe. Daley has drawn on his collections' handcrafted elements, creating woven carpets, knitted by Daley's mother Maureen and his team of knitters, to line the ground-floor space. 'They used huge needles to create really chunky volumes,' he says.
RELATED STORY
Due to Covid-19 restrictions, Daley hadn't physically seen the curving glass façade of Now Gallery before his curation process began. 'You can learn a lot from a PDF!' he says. The gallery's exterior is wrapped with colourful vinyl artworks, while typographic and figurative banners are suspended from its ceiling. These pieces were illustrated by Gaurab Thakali, who also designs Daley's graphic, nightlife-inspired show invitations.

Two exclusive films illuminate Daley's inspirations further. Return to Slygo, directed by Akinola Davies Jr, offers cross-generational insight into the genres that inspire the designer, narrated by dub poet Roger Robinson and featuring a performance by experimental jazz trio Sons of Kemet, who also played live at Daley's S/S20 show. The second, A Knitted History, directed by Joseph Dunn, explores the designer's fascination with stitching, featuring an interview with Maureen and showcasing knitted styles from previous collections, including colourful jute bucket hats.

The films are presented as part of the exhibition, alongside family photographs and sentimental ephemera, including the original Reggae Klub T-shirts that Daley's parents designed in the 1970s. For an hour each evening, sound systems will also play a carnival-inspired set list. In anticipation of continuing lockdown, the films and playlist will be available to view and listen to online.
After bands had played at Reae Klub, they would crash for the night at Daley's parents' at. With 'Return to Slygo', Daley hopes to foster the same intimate sense of community that brings his collaborators, manufacturers, shoppers and exhibition goers together. 'Daley's designs aren't about clothes, they're about identity,' Burrill says. 'He's celebrating a musical exchange between Black artists from dierent generations. We need these dialogues more than ever.'
INFORMATION
18 May - 4 July 2021
nowgallery.co.uk

nicholasdaley.net
ADDRESS
Now Gallery, Peninsula Square, Greenwich Peninsula, London SE10
VIEW GOOGLE MAPS (opens in new tab)