Richard Malone on his process-driven, egalitarian London exhibition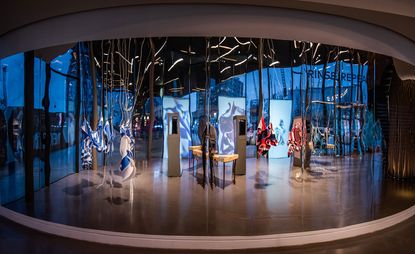 (Image credit: Charles Emerson)
Acclaimed Newgen designer, Richard Malone, is the latest to light up the cultural offerings of London's Greenwich Peninsula. Launching at Now Gallery this week, 'Rinse, Repeat' – offers a multifarious riff on cheap launderettes, the never ending cycle of fashion seasons, and designers' recurring themes and motifs – and invites the public into Malone's expansive and inventive world.

Having graduated from Central Saint Martins' womenswear BA where he was awarded the prestigious LVMH Grand Prix scholarship in 2014, Malone went on to win the Deutsche Bank Award, show three seasons under the banner of Lulu Kennedy's Fashion East and three more (and counting) with Newgen at London Fashion Week.

In a short time he's become renowned for his sustainable practice, use of waste materials, playful colour and print, and architectural shapes that are at once both outlandish and wearable. It's a relative whirlwind career but between his explorative artistic approach to design and his roster of private clients for whom he creates bespoke commissions – pioneering women in the fashion and arts from Julia Muggenburg to Farshid Moussavi, Björk and Sinead Burke to name but a few that can be named – Malone has a burgeoning body of work.
Beginning his higher education at a 'quite traditional and shit' course at a sculpture college in Ireland – Malone's basis is in art. His initial projects dealt in performance as well as many of the themes he returns to today: building materials and printing techniques. 'Because there was so much to do with the body, and shapes around the body, they advised me to apply for fashion,' Malone explains over lunch.

Sculpture and fine art practises remained his core passion but it was the prize money from Deutsche Bank Award – and the conditional first collection – that forced him to keep to the fashion path. 'I like the pace, it's more intense and you make so much work. The cycle is a bit exhausting – for your eyes as well now, with social media and all of that imagery; you can get really exhausted looking at these fashion images.'

With a bid to uproot this closed loop, Malone takes residence at the Marks Barfield-designed pavilion of Now Gallery, following the likes of Molly Goddard, Camille Walala and Fred Butler. Comprising iPhone-shot reference imagery, poetry, sketches, audio recordings of Richard in conversation with some of his most vocal clients, clothing arranged as sculpture and clothing for visitors to try on, 'Rinse, Repeat', eschews any traditional notions of the fashion exhibition.

So too, do the videos documenting the processes used to create and recycle his sustainable fabrics – 'I don't think anyone really sees that' – and the vitrines, dedicated to the women who've supported him, spanning the professional relationships to that with his artistic grandmother. 'She was a commercial seamstress for a hospital, but she did all these creative things – painting stones, weird things… The vitrines are more sentimental, which I think is overlooked a lot in fashion – it plays a huge part in the making of the clothes.'

Malone's pièce de resistance is the exterior, where a large-scale projected video will show dancer Finetta Mikolajska dancing in Malone's creations, revealing the unexpected flexibility of his bombastic, moulded pieces. 'It's quite funny to project something a bit weird and avant-garde, opposite the O2 Arena – people are sometimes really intimidated to go into those gallery spaces, like my parents for example. Passersby will have to see it, because it's right there outside the building, and it's quite democratic in a way.'
INFORMATION
'Rinse, Repeat' is on view at Now Gallery until 27 January 2019. For more information, visit the Now Gallery website
ADDRESS
The Gateway Pavilions
Peninsula Square
London SE10 0SQ