Makes scents: Louis Vuitton launches its much-anticipated perfume range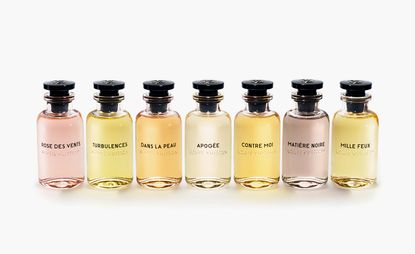 (Image credit: Louis Vuitton)
Louis Vuitton may be one of the biggest and most successful luxury brands in the world, but until now it has lacked one very profitable element in the luxury portfolio: a perfume. Back in the 1920s the company did have its own fragrances, but its last release was in 1946 and since then, nothing… until now.

Rumours that Vuitton was planning a perfume have been circulating since 2011, not long before it appointed Jacques Cavallier as its in-house nose, but it's taken over four years for his work to see the light of day. And while it would have been hard for any scents to live up to the expectations aroused by such a major brand, Vuitton and Cavallier have given it an excellent try.

With bottles designed by Marc Newson, no less, and a series of complex floral fragrances that buck (and might even reverse) the unisex and minimalistic trends of the last few years, these are ambitious perfumes, as befits a brand with such corporate clout.

Released earlier this month but only available in Louis Vuitton stores, there are seven perfumes in the range, all inspired in some way by ideas of travel.

'Rose de Vents' is a fruity, full-blooded rose, which uses three different versions of the raw ingredient: essences of Turkish and Bulgarian rose, plus Vuitton's own exclusive CO2 extraction from centifolia roses grown near Grasse, the historic centre of French perfumery, where the company has recently opened its own grand atelier. To add to its complexity, 'Rose de Vents' also includes iris, Virginia cedar and a touch of pepper.

'Turbulences' is based on sultry August evenings in Cavallier's garden in Grasse, and the mingled scents of jasmine and tuberose. As an ingredient, tuberose can often be unpleasantly overpowering, but Cavallier's take is surprisingly fresh, tempered by notes of May rose, leather, magnolia, jasmine sambac and Jasminum grandiflorum from Grasse.

'Dans la Peau' is our personal favourite: a lovely light leather scent, based on natural leather from the Louis Vuitton workshops, it has an almost cologne-like quality, with a hint of apricot. It also includes extracts of narcissus and both Chinese and Grasse jasmine.

'Apogee' is an equally fresh, clean recreation of the famously fugitive scent of lily of the valley. This green, lemony floral fragrance is built from jasmine and May rose from Grasse, Chinese magnolia, sandalwood and guaiac wood.

'Contre Moi' takes another difficult ingredient, vanilla, which can all too often smell childish and cloyingly sweet, but Cavallier lightens its cake-like associations by using two different varieties, then adding ambrette seeds, orange blossom, Rosa centifolia, magnolia and bitter cocoa. If that sounds over-rich, it has a surprisingly citrusy start and a pleasantly edible finish.

'Matière Noire' is, for our money, the most unisex and abstract composition of the set, but then it's based around patchouli, which of course is used in many men's perfumes. It seems that Cavallier is a great fan of Laos agarwood, and he uses this here along with blackcurrant, narcissus and sambac jasmine, plus rose, cyclamen, benzoin and incense. Again, if that mix sounds incoherent on the page, it works much better on the skin.

'Mille Feux', the seventh and final perfume in the range, is another take on leather, only this time with the addition of raspberry – apparently inspired by some raspberry coloured leather that Cavallier saw on a visit to a Vuitton workshop. It's as fruity as you might expect, but that's balanced with a nice fresh leather, plus the delicate apricot of osmanthus, with iris and saffron underneath.

You could say that Les Parfums Louis Vuitton are a return to a style of feminine fragrances that France was once famous for, just as Vuitton has returned the locus of its perfume-creation to Grasse, perfumery's historic centre. Both are intriguing moves, and it will be interesting to see whether it kicks off an entirely new trend.
INFORMATION
Les Parfums Louis Vuitton, from £180. For more information, visit the Louis Vuitton website (opens in new tab)