Louis Vuitton fragrance debuts its most exclusive scent ever
Louis Vuttion's Pur Oud, containing a high concentration of a rare natural ingredient and available in an edition of 2,000 bottles, is an exception in the world of perfumery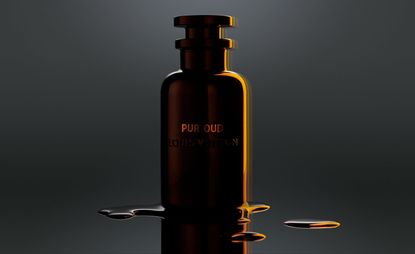 (Image credit: Neil Godwin)
'The finest raw materials are perfumes in their own right,' says Jacques Cavallier Belletrud, master perfumer for Louis Vuitton and the mind behind the brand's latest fragrance, Pur Oud. The perfume is, as its name suggests, composed almost entirely of natural oud essence, making it exceptional in the world of perfumery.
The opulence of oud
So what exactly makes Louis Vuitton's use of oud so special? Oud itself is derived from agarwood, a type of fungus-ridden wood in an otherwise healthy tree that, when left to sit for numerous, sometimes hundreds, of years, creates a dark resinous substance that may be converted into an oil for perfume. The rarity and difficulty of harvesting agarwood are what makes it one of the most expensive natural raw materials in the world and, consequently, one of the rarest to find in perfumery in non-synthetic form.
It is for this reason that Pur Oud is Louis Vuitton's most exclusive fragrance yet (there are only 2,000 bottles available) and its most valuable (each bottle comes in at €1,200). Oud is known for being an intensely potent fragrance, smelling very much like something that has come from the depths of the earth. Those familiar with it will know that it is a fragrance both fiery and slightly damp, punchy yet velvety rich.
Louis Vuttion's Pur Oud
To have such a fragrance concentrated at 10 per cent of the formula, an amount even Louis Vuitton terms 'immoderate', means that wearing it feels almost like putting on a physical substance rather than a vaporous scent. It is opulent in the extreme, the olfactory equivalent of a weighty diamond necklace.
'I wanted to offer enthusiasts the chance to smell true oud, which is rare, without altering the scent with additional notes and instead letting it express itself on its own,' explains Cavallier Belletrud. To this end, the master perfumer added only a touch of two additional musks to the fragrance. 'Three ingredients, that's all. Richness doesn't preclude simplicity, quite the contrary.'
It is important to note that the agar trees used to create oud have been declared a potentially threatened species by CITES, making the harvesting of oud for fragrances potentially environmentally damaging. To ensure they are maintaining the least harmful production practices possible, Vuitton is working with a family-run team of producers in Bangladesh, who have cultivated oud for the past 200 years.
'In perfumery, the most beautiful ingredients are the ones where you can feel the human story,' says Cavallier Belletrud. 'They can't be obtained by mechanical means. That's where true luxury is: these are living products.'
INFORMATION
louisvuitton.com (opens in new tab)
Mary Cleary is the Beauty & Grooming Editor of Wallpaper*. Having been with the brand since 2017, she became an editor in February 2020 with the launch of the brand's new beauty & grooming channel. Her work seeks to offer a new perspective on beauty, focusing on the pioneering personalities, product designs, and transformative trends within the industry.