Travel the world (from home) through scent with Louis Vuitton
As Louis Vuitton launches its latest transportive fragrance, California Dream, we open up its treasure trunk of globe-trotting fragrances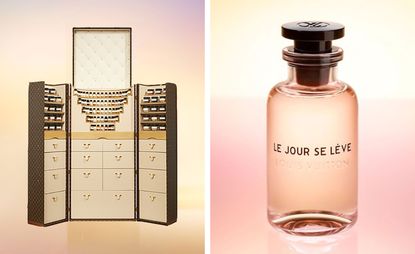 (Image credit: Louis Vuitton)
Inside a custom-made scent trunk, Louis Vuitton's master perfumer stores a universe of fragrances that inspire wanderlust. Jacques Cavallier Belletrud took the helm of the maison's perfume division back in 2012. Since then he has introduced 22 signature scents – perfumes, ouds and colognes, that speak to Vuitton's globe-trotting history.

For a perfumer, the greatest journeys are those made with the imagination. As the third generation of scent makers in his family, Cavallier Belletrud has a nose that has traveled every continent. During his childhood, he would daily walk past a 16th Century estate in Grasse, now known as LVMH's Les Fontaines Parfumées. Today, its Jean Mus designed garden, filled with centrifolia roses, citrus trees and jasmine is his office.

'California Dream' – a sunset-in-a-bottle cologne, is his latest creation for the French house, a citrus concoction capturing LA skies and a West coast mood.
Dreaming of future getaways, we take a look inside Louis Vuitton's fragrant monogrammed trunk – selecting our favourite travel-inspired scents from the master perfumer.
Heures d'Absence
Place: The Vuitton family country home in the Seine-et-Marne region of France

Notes: Jasmine from Grasse reveals itself majestically, thanks to CO2 extraction – a Maison Louis Vuitton exclusive. The jasmine embraces its constant companion, the May Rose, which are grown at the Grasse estate where Cavallier Belletrud works. All mixed with the green, powdery facets of Mimosa from the Tanneron, a marvel that illuminates the hills of Provence with a radiant yellow at winter's end.
Ombre Nomade
Place: The Saharan Atlas mountains in Northern Algeria

Notes: A rare and intoxicating oud wood evokes the mysticism and dry heat of the desert. Blended with a hint of benzoin and raspberry, distant notes of incense bring to life the shadow and light on the dunes, with a stillness and solitude at the heart of the journey.
Coeur Battant
Place: The village of Shubra Blula in Egypt's Gharbia province.

Notes: An energising blend of light and dark, that opens with a cool, crisp pear. This majestic perfume centres on the radiant flowers of Egyptian jasmine, and blends notes of wildflower and narcissus with a chypré base of pure patchouli. Located near the Nile Delta in Egypt, Shubra Blula's fields are home to the world's finest jasmine grandiflorum.
Le Jour Se Lève
Place: The town of Vettica on the Amalfi Coast, Italy

Notes: The first rays of daylight inspired Jacques Cavallier Belletrud to create Le Jour Se Lève – a radiant mandarin illuminated with sambac jasmine and blackcurrant accord. On the skin, it feels like an early breath of fresh morning air.
Contre Moi
Place: Moorea Island in Tahiti, French Polynesia

Notes: Cavallier Belletrud is fascinated by vanilla, and for Contre Moi he has ventured into unchartered territories by fusing together a pair of vanillas from Madagascar and Tahiti. Blending these with orange flower, rose and magnolia petals, he captures what he describes as 'a fusion of two travelers' with bitter cocoa adding a touch of rebellion.
California Dream
Place: Malibu Beach in Los Angeles, California

Notes: 'My starting point was to create warmth that envelops coolness,' explains Cavallier Belletrud of his latest creation which is inspired by the sunsets of Southern California. 'There's always that contrast of how to blend explosive freshness with softer notes that will allow the paradox to express itself fully on the skin.' Citrus notes of mandarin unfold on a horizon of musks including ambrette to evoke the earth and the soft, crackling heat of benzoin. Multimedia artist and Wallpaper* Design Awards 2020 judge Alex Israel has collaborated with the maison once again, to create artwork to dress the fragrance.
INFORMATION
louisvuttion.com (opens in new tab)