Hit the road: Land Rover Discovery Sport loves both mud and tarmac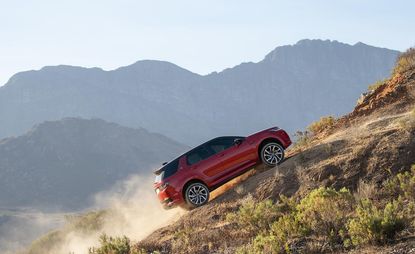 (Image credit: press)
Land Rover makes SUVs for almost every desire. With its roots deep in all-terrain drive — cars for the wild explorer, their portfolio has subsequently expanded to novel genres. Who knew, for instance, that the urban commute could require such an assortment of SUVs, some of which have off-road technology so deeply advanced that it feels wrong limiting them to the school-run and Waitrose carpark.

Which brings us to the latest Discovery Sport. This is a compact version of its much bigger sibling, the Discovery, although it offers a similar 5+2 seating arrangement. Although it's slightly smaller, the Sport offers sophisticated driver assist and smart tech tailored from its more premium Land Rovers siblings. Driven in the Lake District and through the Yorkshire Dales, dipping on and off tarmac, and deep in mud and water, the Discovery Sport proves to be a highly accomplished product.

Land Rover and Range Rover design is entering a short phase of evolution, not revolution. The Sport's exterior design sees a noticeable refinement of the previous model, yet it retains the classic Discovery rising beltline and tapered roof. There are slim LED headlamps at the front and rear, as well as updated grille and bumpers. The model we drove is the higher trim HSE model (there is an option of an S and SE, and a sportier R-Dynamic), with a tasteful 'Portofino Blue' colour theme that visually slims the overall volume. It also benefits from an expansive fixed panoramic roof, flooding natural daylight into a cabin swathed in leather. The material story here follows a more conventional pattern, yet Land Rover also offers a more progressive selection of interior trims, including sustainable wool.
The Discovery Sport benefits from the marque's latest infotainment interface – the twin touchscreen 10-inch Touch Pro Duo. The idea is for technology to be out-of-sight, hidden from view, until you turn the ignition on. The concept works well in promoting a calmer and more serene cabin. To encourage the adventurer in us, Land Rover is also offering the 'Activity Key' – a handy wearable waterproof band that allows you to enter the car without a conventional car key.

The Discovery we drive is diesel-powered — the nine-speed automatic 2.0 litre engine is capable of 180bhp, 0 to 60mph in 9.4 seconds and a top speed of 125mph. There is also a choice of a 2.0 litre petrol with 200 or 250bhp. What's more, Land Rover offers what it terms as 'mild hybrid' technology on most of the cars whereby a 48-volt system provide all-electric drive at very low speeds. The company has promised a more ecological plug-in hybrid later in the year, in keeping with its current roadmap to EV power.
RELATED STORY
Contemporary Land Rovers have become highly technical products. The Discovery Sport comes with something called 'Smart Settings', using artificial intelligence algorithms to learn our driving preference and habits over time, then adjusting seating position and steering wheel height before we enter the car. Another new tech, 'Ground View', makes the bonnet 'invisible' by projecting camera-sourced imagery onto the upper touchscreen to show the driver a 180-degree view under the front of the vehicle. This comes into use when negotiating difficult parking spaces, navigating kerbs or tackling rough terrain.
Another highlight is the 'ClearSight Ground View' digital rear-view mirror (also offered on the Range Rover Evoque). A camera, positioned on the roof, projects a flawless all-surround 360-degree view, which proves exceptionally useful when navigating the Yorkshire Dales National Park with its roaming cattle. Finally, the Sport has a handy 'Advanced Tow Assist' function that essentially self-reverses the car when you have a trailer attached to the rear.

The Discovery Sport is more than capable on motorways and country roads. Yet it is at Land Rover Experience Yorkshire where its talents truly shine. The company encourage new customers to come along to these centres, which are dotted around the UK, to experience the potential of their vehicle. Four-wheel drive models come with 'Terrain Response 2', which automatically detects the surface being driven on and adjusts the set-up accordingly. The driver can also manually set the system (to Comfort, Sand, Grass-Gravel-Snow and Mud & Ruts) and control hill climbs, descend slops and wade through deep water with ease.

Land Rover has had quite a decade. Under Tata's ownership and with Gerry McGovern's astute creative direction, the marque has shaped a comprehensive family of cars firmly anchored on their SUV-ness yet retaining a clear direction for each branch of the family tree – Range Rover, Discovery and Defender. The Range Rover family that includes the Velar and Evoque has become more of a luxury urban drive, while the new Defender (revealed last month) is strictly for the wild. The Discovery, and this latest Discovery Sport, has also a defined mission: to take the family on great adventures, in comfort and with a little support from technology.
INFORMATION
Land Rover Discovery Sport, from £31,575
landrover.co.uk (opens in new tab)