Fab 40: Currywurst Museum, Berlin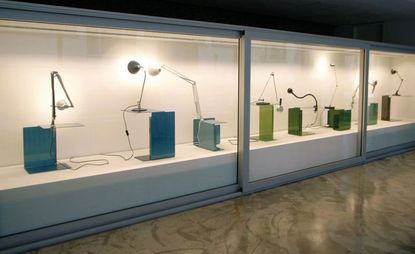 (Image credit: Museum Store, Berlin)
Wallpaper* Newsletter
Receive our daily digest of inspiration, escapism and design stories from around the world direct to your inbox
Thank you for signing up to Wallpaper. You will receive a verification email shortly.
There was a problem. Please refresh the page and try again.
Read the Article: 032c Museum Store, Berlin
It has given the world Wienerschnitzel and bratwurst – but currywurst is our German national treasure of choice, and the fact that it isn't as well known outside its homeland makes it all the more special. Making it couldn't be easier: take one steaming pork sausage, cut into slices with a suitably sharp knife, and season generously with curry sauce made from ketchup, Worcestershire sauce and curry powder.
If it sounds like something you'd grab on the way home from a Pilsner-fuelled night, then that's because it is; invented as a take-out dish by Herta Heuwer in 1949, currywurst is usually served with chips and/or bread rolls, providing a quick, cheap and filling snack. The Currywurst stalls found on every other corner have now inspired a new museum dedicated to the dish in Berlin.
Read the Article: Bullerei restaurant and cafe, Hamburg
Read the Article: Crooma photographic gallery, Munich
The brightly coloured surorunds of Berlin's first ever Currywurst museum. Dedicated entirely to every Berliner-in-the-know's favourite snack, the museum pinpoints every Currywurst stall in the city. Sample the myriad spices that make their way into the Currywurst's secret sauce
Read the Article: Currywurst Museum, Berlin
Read the Article: Diakonie Church and Camput, Dusseldorf
Read the Article: Etage Store, Berlin
A return to artistic grassroots, part gallery, part studio, Exile offers opportunities for artists to create site specific exhibitions in the space. In rejection of the Blue Chip gallery mode that has become de rigeur, Exile takes a more hands on approach. More concerned with making art than marketing it, gallerist Christian Siekmeire's offers up-and-coming artists the chance to both create and exhibit work in Exile.
Read the Article: Exile Gallery, Kreuzberg Berlin
Read the Article, Extrafein Boutique, Berlin
Read the Article: New flat in Berlin by J Mayer H Architects
Designed for a family of art lovers, the flat does not shy away from Meyer's overstated approach. Meyer's blinding green stylings can be found throughout the Berlin flat. Meyer's angular contour lines follow the architectural definitions of the space
Read the Article: Kkaarrlls design, Karlsruhe
Read the Article: Michelberger Hotel, Berlin
Read the Article: Onono Eyewear
Read the Article: Sneaker Jewellery
Read the Article: Town House by David Chipperfield, Berlin
Read the Article: Wiessmann Cars, Dulmen
Read the Article: Wohnhaus Lubbering by Drewes + Strange.
Receive our daily digest of inspiration, escapism and design stories from around the world direct to your inbox
Melina Keays is the entertaining director of Wallpaper*. She has been part of the brand since the magazine's launch in 1996, and is responsible for entertaining content across the print and digital platforms, and for Wallpaper's creative agency Bespoke. A native Londoner, Melina takes inspiration from the whole spectrum of art and design – including film, literature, and fashion. Her work for the brand involves curating content, writing, and creative direction – conceiving luxury interior landscapes with a focus on food, drinks, and entertaining in all its forms