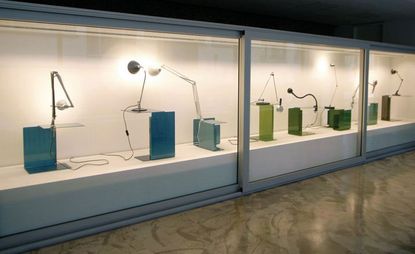 (Image credit: Museum Store, Berlin)
Look around you: aren't they the escarpment-like cheekbones of Sophia Loren, superimposed in front of a volcano? And isn't that Paul Newman's face peeking out of a racing car (presumably the perfect embodiment of his hi-octane personality)? Like Axel Crieger's genre-spanning prints, which it prominently vaunts, nothing in this bleached, space-age salesroom for photographic art, lighting, furniture and accessories is as it should be.
Metallic spacesuits punctuate hallways. The firm's monochromatic logo is stretched across the side of a mezzanine, like it was created by a thousand, overlapping marks from a pair of compasses. Contained within a Neo-classicist Robert Rehlen building, step inside to soak up what becomes an elegantly layered, compartmentalised meeting place for designers to compare notes and tout their wares.
Photographers represented include New York's Tim Petersen, Milan's Max Cardelli and London's Zena Holloway. Design on offer includes the rustic woodwork of Palo Samko and the fashion of Munich's fetishistic Hamansutra.
Receive our daily digest of inspiration, escapism and design stories from around the world direct to your inbox