Manifesta 14: an unflinching look at Kosovo's fraught history and ambitious future
In Prishtina, nomadic biennial Manifesta 14 draws on the past and future of Kosovo through ambitious art and staggering architecture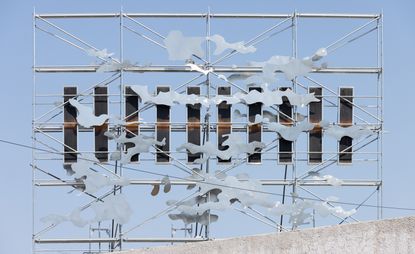 (Image credit: TBC)
The theme for this year's Manifesta, the roving European biennial known for its melding of art and urbanism, is centred around 'new practices and modes of collective storytelling'—a focus that found fertile ground in Kosovo and its capital Prishtina. Since the NATO bombing of Yugoslavia in 1999 and Kosovo's declaration of independence from Serbia in 2008, the young country has long been the focus of fiercely competing historical narratives surrounding sovereignty.

It can feel unnerving when European art biennials and cultural visions wade in such explicit terms into highly contentious political territory; these events often barely camouflage their implicit purpose of being tools of soft power for Western political interests. Yet in this particular context, the cards are on the table—and Kosovars aren't being shy about using Manifesta 14 to platform their issues, too. In the opening speeches by politicians and organisers, arts and culture journalists were explicitly called upon to raise awareness of how unjustly Kosovars are affected by limitations on travel and strict visa rules imposed by European countries. As Manifesta's digital media coordinator, DJ and activist Oda Haliti explains, about a third of her fee for a DJ gig abroad would go towards issuing a visa, which doesn't guarantee she'll receive it. As Manifesta's director Hedwig Fijen put it: 'If Kosovars can't travel to see art, we must bring it to them.'

But there are local concerns as well, especially surrounding the loss of public space to privatisation, and the urgent need to reclaim and regenerate abandoned buildings, many of which are brutalist gems. 'We somehow forgot what running a public institution means,' says Yll Rugova who, in 2018, spearheaded the bid to bring Manifesta to Prishtina. He added that due to Serbian oppression, during which the Albanian population of Kosovo—about 95 per cent—were excluded from public institutions and even schools, Kosovars need to relearn how to use and care for public space.
Manifesta enlisted Turin-based office Carlo Ratti Associati as 'architectural mediator' to conduct an urban study (Manifesta favours the term mediators over curators). One of Ratti's interventions to transform Prishtina beyond the biennial's 100-day run is the Green Corridor, a pedestrian park dotted with benches and newly planted trees along disused railway tracks. Indeed, walking through the city in the midst of a heatwave, the need for shaded, car-free zones became abundantly clear.

Another such intervention saw the shopping street leading to the Grand Hotel Prishtina, one of Manifesta's main venues and visible from anywhere in the city centre, blocked for traffic. Atop the hotel's roof, Berlin-based Kosovar artist Petrit Halilaj created a simple yet poignant work titled When the sun goes away, we paint the sky. The once glamorous hotel has been in decline for decades; Halilaj took the five stars of its signage and reassembled them to create a cascade of illuminated stars shining bright across the Grand and the surrounding buildings.
Inside the hotel, the main bulk of the exhibition is installed. Curated by artistic mediator Catherine Nichols, it puts forward her vision of storytelling as a tool for regeneration, which means that there are a lot of video works on view inside the dusty rooms. Albanian artist Driant Zeneli presents an enchanting trilogy of films based on Aesop's fables, in which robotic animals explore Brutalist utopian architecture in the region, including Prishtina's National Library of Kosovo in a work titled No wise fish could escape without flying (2019). Amsterdam-based Bosnian artist and activist Selma Selman uses poetic humour to address the oppression of Roma people in the work Mercedes Matrix (2019). There, the artist is seen joined by her family, who collect and sell scrap metal for a living, in dismantling a Mercedes Benz, one of the most recognised status symbols across the Balkans and beyond.

Many venues outside the hotel are dedicated to single-artist, site-aware installations. The fifteenth-century Great Hamam, an important cultural heritage site that fell victim to privatisation and botched renovation attempts, was recently rebought by the city, and there is hope that it could someday become an exhibition space. Inside, Berlin-based Japanese artist Chiharu Shiota threaded an intricate web of red yarn that fills what was once the main steam-bath area. Handwritten family stories that the artist had collected from Kosovars are interwoven into the net of threads. In the former printing press and publishing house Rilindja, Turkish sound artist Cevdet Erek pays tribute to the building's history as a home for three daily newspapers, in Turkish, Albanian, and Serbo-Croatian, and present use as a techno club, with a subtly thumping sound-and-light installation.
The Center for Narrative Practice is another permanent architectural repurposing. The 1930s building and its garden were completely redone to house artworks, including handwoven rugs by Jakup Ferri, who is currently representing Kosovo in the 59th Venice Biennale. It will remain an art centre post-Manifesta, and the garden café is sure to become a favourite hangout for Prishtina's young creatives (over 50 per cent of Kosovo's population is under 30.) The space's new name can be read as a reference to the fact that both art and nation-building rely on storytelling; which voices get heard spawn new worlds is particularly crucial at this point in Kosovo's young history.

It's not surprising then that Manifesta included the Hertica School House as one of its official venues. In the 1990s, as Kosovo Albanians were barred by the Serbian regime from all forms of public education, clandestine schools popped up in private residencies. This parallel system was courageously maintained throughout the 1990s, putting those involved in danger. Today, the three-storey Hertica School House is in shambles, but still stands as a monument to this chapter of the national story, and video interviews with former students and teachers are installed inside the different classrooms as a living archive. 'You can see why Kosovo punches above its weight in all the creative spheres,' Prime Minister of Kosovo, Albin Kurti, said in his opening speech, promising to dedicate one of the Manifesta venues to the establishment of a contemporary art museum. When it opens, it is clear that there will be no problem filling such a museum with works by local voices.
INFORMATION
Manifesta 14 in Prishtina, Kosovo runs until 30 October 2022. manifesta14.org (opens in new tab)