Designers on the future of Mini Living in Beijing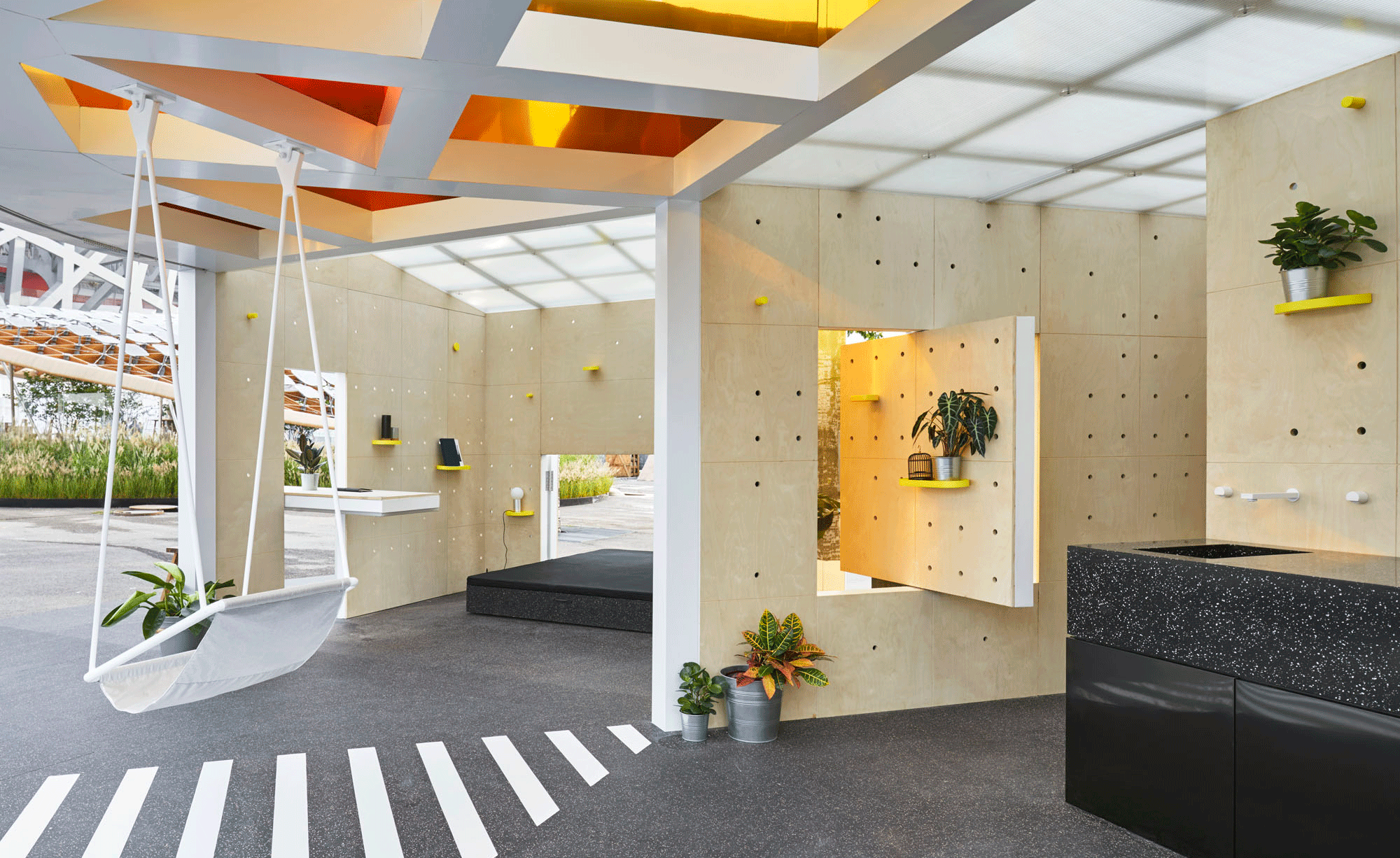 (Image credit: press)
Mini Living's new Beijing housing concept is the latest step in its very real-world plan to launch compact and flexible urban spaces to rent from mid-2019. The brand once only known for small-and-smart cars, announced the creation of a distinct housing division back in 2015 and its latest Beijing concept is its fourth, after others unveiled in London, New York and Los Angeles.
Each one aims to showcase ideas specific to their city's context through collaboration with local architects – in Beijing's case Dayong Sun – who took inspiration from the traditional hutongs he knew from his childhood, where shared courtyards provided communal space to hang out among otherwise densely-packed housing.

Accordingly, the Beijing concept house is just 15 sq m in size but features a semi-circular living room area with a ceiling-mounted swing where neighbours could interact, or equally when privacy was sought, be curtained off. Above this central space are a series of gold-coloured mirrored chimney-like vents which act as telescopes to the sky and which, due to their configuration, create kaleidoscopic reflections of the immediate neighbourhood – in this temporary case, including Herzog & de Meuron's 'Bird's Nest' National Stadium built for the 2008 Chinese Olympics.
Oke Hauser, Corinna Natter & Dayong Sun, in front of the Mini Living concept, Beijing
Aside from being a fascinating way of bringing colour and light into an otherwise fairly muted-palette interior, these 'light chimneys' also play a symbolic role, as Mini designer Corinna Natter puts it, 'to bring the outside inside'. This seems to be an important aspect for the whole Mini Living project which, while far from intending to be a solution for the lowest earners in the world's biggest cities, does nonetheless intend to make better use of urban spaces and provide good value accommodation for young professionals or global urban travellers alike. As Mini's project lead Oke Hauser told Wallpaper*: 'We want to connect people to live better in cities. It's important to us to promote an 'open-door' policy, not to generate a gated-community feeling.'

Even the more traditionally private areas of the Beijing concept reflect this ethos. Examples include a double bed which can slide through a flap in the wall to become an outside daybed and conversely an exterior-mounted wall ladder for roof access which can rotate inwards to become an interior towel rail for the bathroom. Elsewhere this outside/inside blurring is more subtly suggested by small but regularly spaced holes in the plywood interior cladding which let light through from the opaque polycarbonate exterior surface.

As such, the Beijing house only evolves and develops themes from the previous three Mini Living concepts. The proof of these concepts' collective ideas will come next May when the first rentable Mini Living apartments are due to launch in a refurbished old paint factory in the Jing'An district of Shanghai.

Studio, mezzanine studio and multi-bedroom apartments will be available to rent from circa €1200 per month (versus a market rate of €2000-€3000 for similar-size flats elsewhere in the city says Hauser) with free shared spaces for interaction and further rooms – including a large dining room for special occasions or an office for meetings – hired out as and when required via an app.

Hauser says the building itself will be 'quietly branded' Mini Living and will also offer a car park with shareable Mini cars inside no doubt. The venture is a very radical departure for a car brand, but by the looks of things one with serious business intent.
INFORMATION
For more information, visit the Mini Living website (opens in new tab)
Guy Bird is a London-based writer, editor and consultant specialising in cars and car design, but also covers aviation, architecture, street art, sneakers and music. His journalistic experience spans more than 25 years in the UK and global industry. See more at www.guybird.com (opens in new tab)