Alfa Romeo's new 4C sportscar takes on elite rivals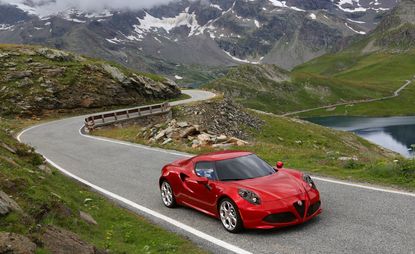 (Image credit: Alfa Romeo)
Aside from its limited-run 8C 'supercar', launched in 2007, it's been decades since Alfa made a car that fully lived up to its sporting heritage. That all changes this month, as the enigmatic Italian brand takes official orders for its great-looking new 4C, with deliveries expected in late 2014.
The new 4C isn't just pretty. With its lightweight body of carbon fibre – normally the reserve of supercars – and a driver-focused mid-engine rear wheel-drive two-seater layout, the affordable £45,000 sportscar really does rival both the Lotus Elise and Porsche Cayman.
The heart of the 4C may be a relatively small four-cylinder 1750cc petrol engine, but 240bhp in a vehicle weighing only 920kg powers it from 0-62mph in 4.5 seconds, with a 160mph top speed, while still recording a reasonable 41.5mpg and a 157g/km CO2 rating.
It's hard to be graceful getting in and out of something so low slung, but once inside, a good driving position is easy to find. Alas, there's no manual gear stick, as the 4C relaunches Alfa globally – including in the US, where 'stick shifts' are rare. It does offer an automatic six-speed dual-clutch gearbox with steering wheel-mounted plastic paddles to shift up and down and Alfa's usual toggle-switch driving modes, plus a fourth 'race' setting to allow quicker throttle responses and gearshifts and less electronic safety intervention.
Step on the aluminium accelerator and the car flies forward with a noticeably loud engine roar, specially tuned to emphasise the low frequencies. It really does sound great, even if engine 'notes' aren't usually your thing. Beyond the aural feedback, each change comes with a pleasing physical shove in the back when undertaken at speed. Meanwhile the sharp digital driver display not only makes it clear when the redline is approaching – by turning the analogue-style rev band yellow – but also indicates which gear you're in, which can be handy when getting carried away on twisty mountain roads (easy to do).
The quick steering is mechanical, so you know just what the wheels are doing. And as the car is only 3,989mm – with front corners clearly visible – it's easy to position on the road and feel in control. Roll and pitch through corners is minimal. And watching other cars at the launch event reveals just how well the 4C's curvy low-and-wide proportions look when moving.
There are downsides, though. The on-road ride is unforgiving, letting all inside know in no uncertain terms where the bumps live. On test, only the optional 18-inch front wheels and 19-inch rears were available; the standard 17/18s set-up should be better. Flick the driving mode toggle switch to 'natural' and 'auto' for poor road surfaces and it's more tolerable. Because the steering is unassisted, it doesn't stiffen up at speed like many modern systems, so it can seem over-light at high straight-line speeds and susceptible to twitchiness on uneven roads. A firm grip is required.
The rear view is terrible – £420 optional parking sensors are a must, unless you reverse using Jedi skills alone. The plain black headlamp surrounds look cheap, so you'll need the £1,600 real carbon fibre versions. And the 110-litre boot won't take much more than a weekend bag. Lastly, the stripped-out interior – albeit for laudable weight-saving reasons – is in places badly packaged, especially where the sharp edge of the centre console intrudes into the passenger footwell. This is no 'date car', unless your date likes to wear Alcantara shin pads and ear defenders.
But that's not the point. The 4C is all about the driver and the driving experience, delivered through hi-tech and low weight. Choose the right roads and company (your own, or a like-minded soul with his eye on a go in the driver's seat) and the 4C will really make you smile. A lot of 3,500 will be produced each year to keep things exclusive, and a faster 'Stradale' version, plus a targa open-top variant, should follow. Maybe this really will be Alfa's comeback car.
Receive our daily digest of inspiration, escapism and design stories from around the world direct to your inbox
Guy Bird is a London-based writer, editor and consultant specialising in cars and car design, but also covers aviation, architecture, street art, sneakers and music. His journalistic experience spans more than 25 years in the UK and global industry. See more at www.guybird.com