Photography
The fresh new image-makers reframing the world through their own distinctive lens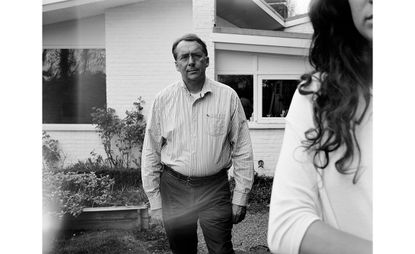 (Image credit: TBC)
At a loss for inspiration on her last trip home to South Africa, London-based Thijs turned her camera upon her family, and so emerged her project Safe House. 'In order to examine the foundations of my family, I wanted to photograph my father, who has recently been diagnosed with bipolar disorder.' The resulting images are a moving visual meditation on the changing dynamics of their relationship. Dream collaborator: Antoine d'Agata. leathijs.com
Through the lens of the cutting-edge graduate camera wielders, portrait makers and digital mavericks, as captured by our Photography desk.
'It's hard to truly understand where you're from until you've left,' India-raised and Canada-based Babbar says. After five years away from home, Babbar embarked upon an epic photographic odyssey to unravel the nuances of his identity through the people and places that had shaped his understanding of it. Each of his images is a tableau: the 'postures, interiors and clothing all offering clues' to the relationship between sitters. Dream collaborator: Greta Gerwig.
Taking its name from a necklace made by his grandmother, Shlyk's vibrant series The Appleseed Necklace nods to the creativity and resourcefulness of the people in his home country, Belarus, during the post-Soviet era. Dream collaborator: 'A creative person sensitive to the environment.'
Planas won gold at Sweden's Golden Girl boxing championship in 2018 and, over time, the transformative process of her training made its way into her art, which captures both the vulnerability of self-care rituals and 'the strength and brutality of the fight'. Dream collaborator: Rrose Sélavy.
Slovakia-born and UK-based, Červeňová was particularly shocked by the EU referendum result. Her project June is a photographic diary featuring evocative images representing the 'ruptures and wounds' she felt in the lives of those around her. Dream collaborator: 'My friend Juillet, a poet.'
Portraying the tottering precariousness of 'home', as place and idea, Agostini asked her family to balance household objects on top of each other. Titled A Blurry Aftertaste, the black-and-white images are at once familiar and austere. Dream collaborator: Ragnar Kjartansson.
Keen to explore 'the opaque environment of political and economic power', Gomez turned his aesthetic interest into a collaboration with a Swiss watch brand, his images riffing on 'the way the watches are sold to rich clients during con dential meetings'. Dream collaborator: Charles Nègre.
What role does the individual play in a growth-based economy? This is the question Schnetz sought to investigate in his project People Place Technology, adopting the language of corporate photography to capture both soullessness and glimpses of humanity. Dream collaborator: Allan Sekula.
Greve's tender portraits of young women explore the quiet strength and awkward beauty of female adolescence, and try to capture the earnestness of 'the way each subject presents herself in front of the camera'. Dream collaborator: A close friend.
juliegreve12@gmail.com
When Chinese artist Wang relocated to America, she was struck by the Asian-fusion restaurants. 'Not authentic but exotic to Westerners, they belong to neither East nor West. They are the products of globalisation.' Thus she began The Oriental Dimension Odyssey, taking fragments of each place and putting them together within an interpretation of the vacuum between cultures: her 'own flat-scale world between reality and illusion'. Dream collaborator: Stanley Kubrick.
If it isn't on Instagram, did it really happen? With this 'humorous, disturbing and depressing' sentiment, Gladstone began You may also like, a project forged in response to 'big businesses like Facebook co-opting our desire to be better'. Seeking out symbolic situations, she photographed the absurdity of viral beauty rituals, wearable technology shows and – that infamous symbol of the 'millennial good life' – the avocado. Dream collaborator: Jeff Bezos.
Sielski Waters populates his sets with surreal photo-realistic 3D renderings that 'oscillate in limbo between the real world and the digital', in order to 'explore the blurring boundaries of human identity in the age of technology'. Dream collaborator: Maxime Guyon.
liamwaters.cargocollective.com
Drawing inspiration from her own religious background, Perez's project Full Gospel explores the operation of modern Christian mega-churches in Seoul. Against a backdrop of 'large-scale technological productions conceived to fit the needs of a modern congregation', Perez's clean and saturated images record the subtle gestures and poignant human connections between individuals amid the masses. Dream collaborator: Save The Children.
perez.photo@outlook.com
Echoing the iconic American journey west for his project A Golden State, Bush set off on countless cross-state road trips, using his camera to reconcile the contrast between the utopian California of his imagination and the reality before him. Dream collaborator: Samantha Contis.