Upcycling on Bond street? Oui, says Hermès with its Petit h exhibition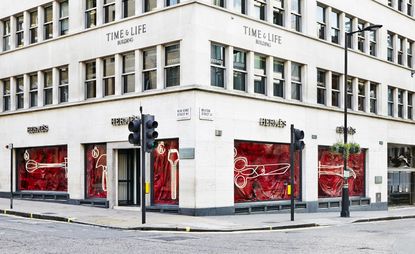 (Image credit: Remy Whiting)
The windows of Hermès' Bond street store are glowing red mahogany, or 'Rouge H', for the holiday season. Lit up by fluorescent tubes shaped like craftsmens' tools, they herald the arrival of 'Petit h' in London.

The Petit h project sees discarded Hermès materials 'upcycled' into new objects of desire, building on the Japanese concept of wabi-sabi – were imperfections of nature are viewed as assets of beauty.
Installed by British designer Faye Toogood, the selling exhibition sees the Bond street boutique's ground floor stripped of its Kelly bags and small leather goods ('for the first time', says managing director Bertrand Michaud with a smile), in exchange for the marvels of Petit h.

'The idea is to create exceptional objects that are unique in their spirit of invention and in the quality of their execution,' explains Pascale Mussard, the sixth-generation descendant of the Hermès family who spearheaded the project (profiled in our December issue - W*177). 'At Petit h, a laboratory of re-creation, we test our limits in terms of shapes, materials, colours and techniques. We recreate, resew, renovate, remake, reinvent.' As a result imperfect porcelain cups are refashioned into light fittings, just as mirrors are finished with silk ties. 'Rebirth is the underlying approach,' Mussard says.

Toogood has also been inspired by the spirit of reinvention, working with foam blocks to sculpt Rouge H-hued display cabinets that resemble red velvet cakes – although sealed with resin rather than icing. The window's neon tube lighting is continued on the ceiling, while staff uniforms have been updated with detachable sleeves made from scarf scraps, as well as artists' aprons, crafted from leather cast-offs.

Launched in late 2010, the project is now a métier activity in itself at Hermès; having already travelled to Tokyo and New York, Petit h finally found a permanent home at the house's rue de Sèvres Paris this June. 'Up to then, the ephemeral and nomadic side of Petit h suited us very well,' smiles Mussard, of the concept that was originally a manifestation of her dream to re-service the house's 'waste'.

'First, I had to convince my family,' she explains of its conception. 'I worked with the designer Gilles Jonemann on around 100 prototypes. I told my family: "Give me the opportunity to create an atelier with your odds and ends. I will turn them (with our great hands) into treasures." They were surprised and amused; they gave me six months to develop my idea.'

Next, Mussard had to approach the house's craftsmen: 'I gathered them and asked for their agreement to recreate their pieces into new objects. I respect very much a designer and so I understand if he refuses to let his silk scarf be transformed into a shopping net or a water carafe into a lampshade. Only two designers did not agree upon at first, all the others loved the idea.'

Practically speaking, the process begins with designers and artists being invited to what Mussard calls the 'Alibaba's cavern' at the Petit h workshop in Pantin, just outside Paris. Here, all of Hermès' discarded materials are gathered. 'They have free rein to explore and create keeping in mind that the objects need to be functional and have a certain understated style that is true to Hermès,' she says, adding proudly, 'The artists transform them using their eyes, their creativity and their hearts with the help of the expert hands of the house's artisans.'

On the theme of transformation, we caught up with Faye Toogood for a tour of the dramatic Bond street store reinvention...

W•: What was the most inspiring aspect of working with a brand such as Hermès?
Faye Toogood: It goes without saying that this brand is truly inspiring in the way it relentlessly pushes the boundaries of craftsmanship and materials. However, meeting Pascale was an inspiration in itself. Her creative and poetic take on the iconic Hermès brand resonated with me and soon after our initial meeting I travelled to Paris to visit the Petit h workshops. Stacks of dyed hides, horsehair, scarves, gloves and leather fittings were being turned around into playful art objects. The piece that caught my eye was a leather off-cut of a signature Hermès bag pattern - the hide was a skeleton of the negative shapes left after the pattern cutters had cut the intricate shapes. It was so inspiring to see a person working within such an established house, finding beauty in the unexpected.

What was your approach to creating Bond street's 'exhibition' space?
I wanted to create a custom-designed interior that acts as an antidote to Bond street's sleek interiors by contrasting Hermès' unmatched heritage with something unexpected and bold. The overall space is lined in white plywood, blanking out the traditional wood cabinets and panelling. We used the distinctive cut-out shapes and templates of signature Hermès bags to create a series of sculptural forms, each fabricated from layers of foam cemented with red resin. For me this mimics the stacks and layers of hides found in the atelier.

What was your inspiration for the windows?
The windows are an homage to the workers, trades and craftsmen of Petit h. We took a tool from each of the trades - leather, silver, crystal etc – and scaled them up in linear neon. These are set against drapes assembled from off-cuts and remnants of the house's iconic silk scarves, each dipped in red dye and bound together with scarlet-pigmented resin.

Tell us about the new packaging. Were you given any parameters from Hermès?
Because we approach all our projects in a holistic way, we wanted not just to create an interior, but to consider all the details of the Petit h experience, so packaging became as important as the interior. We created a series of photogram artworks exposing Petit h tools and materials that were then transposed onto stacks of red tissue paper hung in the 'wrap' area. The classic orange Hermès carrier bags have also been graffitied with Petit h logos in deep red ink.

Having just designed your own debut fashion collection, what was your vision for Hermès' staff uniforms?
The uniform is a major starting point for the Toogood 001 collection and so, for this project, I wanted to create a sort of dressing up box for the workers in the shop. Hooks are placed in the space filled with aprons, arm protectors, headpieces and other accessories all fashioned from discarded Hermès scarves and leather goods. Again they have all been dyed red and dipped in resin.

ADDRESS
Hermès
155 New Bond Street
London W1
Receive our daily digest of inspiration, escapism and design stories from around the world direct to your inbox