Last chance to see: Hermès celebrates craftsmanship in Copenhagen
The Parisian maison's 'Hermès in the Making' exhibition at the Danish Architecture Center in Copenhagen, brings together its esteemed artisans under one roof, and celebrates the timeless power of craftsmanship and innovation – two tenets integral to timeless design today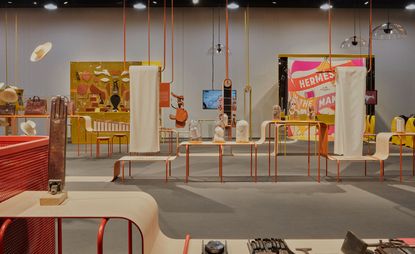 (Image credit: Claus Troelsgaard)
An enlightening but by no means conclusive list of the time it takes to craft a single component in an exquisite Hermès creation spans clasps, leather and saddles. It took more than two years of research, for example, to ensure that the silversmithed clasp of the brand's 'Mosaïque au 24' bag integrated perfectly into its soft leather flap.
It took five years of research and development for the label to reintroduce Volynka leather (a Russian variety that fell into obscurity after the country's 2017 Revolution) to its extensive leather library, in 2018; the library today includes 35-plus varieties, among them recent addition Sylvania, a mycelium-derived, animal product-free alternative, crafted as part of a three-year collaboration with MycoWorks.
Hermès legend also has it that once, when a lady returned an equestrian saddle for repair for the first time, disgruntled that her accoutrement had deteriorated in condition, the saddle was, in fact, almost eight decades old.
'Hermès bags have aesthetics of functionality, purity, refinement and a refusal for useless decoration. A bag is beautiful because it is functional. Each detail, characteristic or pattern always has its reason to be made,' says Catherine Fulconis, executive vice president in charge of Hermès leathergoods, saddlery and Petit H. 'When we think of a bag, we think of all the details, because we would like that clients in 20 years have the same pleasure as today.'
'Hermès in the Making': celebrating craftsmanship at the Danish Architecture Center in Copenhagen
The perfection of Hermès' details – be it the tactile patina of a full-grain leather, the patented clasp of the 'Cityhall' briefcase, which opens with a single press, the formation of inlaid stones, the landscape depicted in leather marquetry – is the subject of an immersive and interactive exhibition at the Danish Architecture Center in Copenhagen. 'Hermès in the Making' offers an educative insight into the artisanal universe the maison has cultivated since 1837, spanning saddlery, jewellery making, basket weaving, silk painting and leather making, and bringing its expert artisans under one roof. Here, exhibition goers can marvel as a 'Kelly' bag – which takes a single artisan up to 20 hours to create – is assembled, jigsaw-like, using 36 pieces of leather; a 'Chaîne d'ancre' bracelet is set with diamonds; and a showjumping 'Vivace' saddle is painstakingly constructed according to the sizing not only of its rider but of their horse too.
'Doing things with our hands brings beauty and authenticity into our lives. It brings us closer to ourselves and to nature,' says Kent Martinussen, CEO of the Danish Architecture Center, of the impetus behind hosting 'Hermès in the Making', a show that celebrates tradition and innovation, functionalism and transmission.
The individual touch is intrinsic to the brand's creative output: more than 4,000 artisans individually craft its creations exclusively around France – in regions spanning Paris, Normandy and the Grand Est – using personal sets of tools. The unique hand of an artisan is paramount to construction. 'It is always very surprising to see an artisan recognise in store a bag he or she has made,' Fulconis says.
In the idiosyncratic and playful style of the maison's exhibitions, the show abounds in interactive games and activities, colour and wit. Children can colour in iconic Hermès scarf prints, swing on a saddle, and sniff signature fragrance. 'Welcome to Hermès, how may I help you?' a voice asks down a telephone, where exhibition attendees can listen to the various comic reasons a client may need a treasured heirloom repaired. Year after year, Hermès crafts meaningful, time-honed and human touch-focused connections.
INFORMATION
On view until 24 October 2021. 'Hermès in the Making' is a travelling event that will next be held in several cities worldwide in 2022.
hermes.com (opens in new tab)
dac.dk (opens in new tab)
ADDRESS
Bryghusgade 10, 1473 København, Denmark
VIEW GOOGLE MAPS (opens in new tab)