Silk road: Hermès' Carré Club journeys to Paris
Hermès Carré Club, a multi-facted and interactive exhibition celebrating the French maison's famed silk scarf, opens at the Carreau du Temple in Paris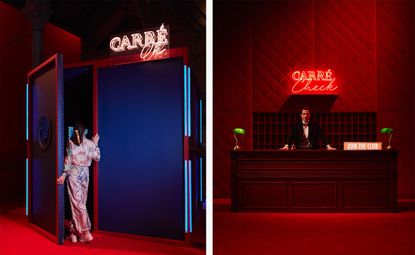 (Image credit: Christophe Coenen )
Few things carry as much sentimental value for the French as an Hermès Carré. The maison's signature silk scarf – created in 1937 and baptised 'Carré' for its recognisable square shape – is a staple in many young women's lives, often passed from mother to daughter, still in its original orange box, or given as a milestone birthday gift. It's cherished as much by bourgeoises from the 16è arrondissement who wrap it around their necks as by headscarved bohemians. So much so, in fact, that the mere mention of a Carré is enough. No need to even say Hermès.

So it was high time – after a world tour taking on New York, Milan, Toronto, Singapore and Los Angeles – for the brand's Carré Club to arrive in its home city of Paris with a brand new format. Until 8 December, a spacious pop up exhibition situated at the Carreau du Temple, in the heart of the Marais, celebrates the design of the iconic accessory. Conceived as an interactive installation, it includes several separate areas, each one featuring a different experience. At the centre of it all is the Carré Studio, where visitors can meet the artists behind the scarf's motifs – including the likes of Alice Shirley, Cyrille Diatkine, Gianpaolo Pagni, Octave Marsal, Théo de Gueltzl, Jean-Simon Roch, Ugo Gattoni, Virginie Jamin and Jan Bajtlik – and watch them at work.
Central to Hermès, the Carré's history is explored in inventive ways that don't align with traditional exhibition installations, but rather a series of talks (on 30 November and December 1, 3 and 7) and Carré Stories, a section of the show, where visitors can pick up a classic telephone to listen to the tales and secrets of the Carré's history.

Among the rest of the activities is the Carré Park, where skaters show off their skills on the ramp three times a day; the Carré Cut, where visitors can learn the very French art of knotting a scarf in dozens of different ways; Carrémania, the perfect place to discover capsule collections and limited edition scarves; and the Carré-OK, a miniature soundproofed karaoke studio to sing along to Brigitte Bardot's unforgettable chansons. Guests can relax at the Pimpin Café, where a range of organic home-made pastries, drinks and signature cocktails go hand in hand with live concerts and DJ sets in the evenings. On a pre-holiday French break, Hermes' activation feels as Parisian as a walk across the Jardin du Luxembourg or a visit to the Musée des Arts Décoratifs. Très bien!
INFORMATION
hermes.com/carreclub (opens in new tab)
ADDRESS
2 Rue Perrée, 75003 Paris, France
View Google Maps (opens in new tab)