Designer Faye Toogood's first fashion foray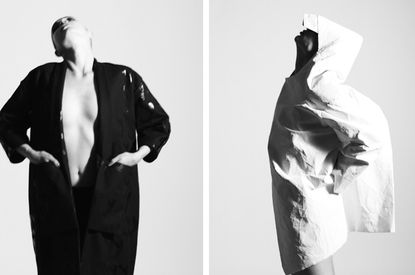 (Image credit: TBC)
British designer Faye Toogood leaped from furniture and objects to fashion this season (opens in new tab), presenting a tightly-edited, magnificently crafted collection of coats in collaboration with her younger sister Erica. In a gallery space in the Marais during Paris Fashion Week (opens in new tab), the Toogood girls showed what can combust when a focused idea is married to maniacal craft and creativity.
Titled 'Toogood' the collection features just eight unisex, made in the UK canvas coats with engineered arms, silk linings and hidden industrial snaps. Inspired by workwear, each garment is named and cut according to the craft of specific trades people, from road sweepers and oil riggers to mechanics and chemists. Erica, a trained pattern cutter, cuts the clothes, while Faye transforms their surfaces by painting, industrial washing, rubberising or even heat-sealing plastic bags into them.

With their sculptural lines and slick, highly creative finishings, the sisters lit a fire in fashion's most tough-to-please town. Not only did they charm and then nab some of the industry's most exclusive retailers, they also piqued the interest of a certain Japanese designer (let's just say she's the Queen of Paris' avant garde) who graced the girls with a visit.
W*: Have you ever made clothes before?
Faye: No. Erica's a pattern cutter who makes bespoke suits. She's the one with the talent. Normally when I make something out of stone, we can just sculpt it. She's working with flat fabric to make three-dimensional shape. It's the coming together of both of us. And actually we've wanted to work together as sisters for a while.

Tell us about the concept?
It's a collection of outerwear pieces based on workwear. But it's done in a very futuristic strong, modern way. Workwear is not a new idea, but to try to bring a contemporary edge to it is. It's not a pastiche of retro workwear.

How did you transform those conventional notions of workwear?
I convinced Erica to drop her classic pattern cutting background and traditional mindset of tailoring and to really push the shape and form. And then I've pushed the finishes. On the hand-painted Oilrigger coat, for example, Erica cut it, I painted it in rubber when it was a flat pattern, then Erica assembled it. That is essentially a wearable work of art.

How has your furniture design background informed this fashion project?
Over the years I've learned to be very clear and concise in the way that I communicate something. We wanted to just do one thing really well. Also I don't have a fear of looking back in order to create something for the future. A lot of designers are fearful of looking back.

Why work in canvas?
As young designers on your own trying to make it, you don't have access to cashmere. You have to order 100 meters of cashmere if you come to Italy. So we worked with the simplest material we could. My attitude in industrial design is the same. You don't always have to pick gold and marble. There's also something really beautiful in tin and wood. It's what you do with it. So the canvas was a test. Can we actually make it really beautiful and glamorous, but elegant and strong?

Tell us about the passport labels inside each coat.
We wanted to celebrate the individual and the worker. And how hard it is when you have your own trade. As a pattern cutter you never get talked about. So our labels list the name of the coat, our initials as designers and then all the initials of the people who worked on it, from the cutter to the seamstress.

Who is your customer?
We've had Vogue girls in high heels trying on the long coats and they look like opera coats. And then we've got edgier men looking more hardcore. It was important to us that it was inclusive. Whether you dress yourself in head-to-toe Celine or Rick Owens, everyone is loving the coats.
features just eight unisex, made in the UK canvas coats with engineered arms, silk linings and hidden industrial snaps
Read more at http://www.wallpaper.com/fashion/clever-coats-faye-toogoods-first-fashion-foray/6814#G7RgxusBPGDEO3so.99