Studio Toogood launches 'Assemblage 1'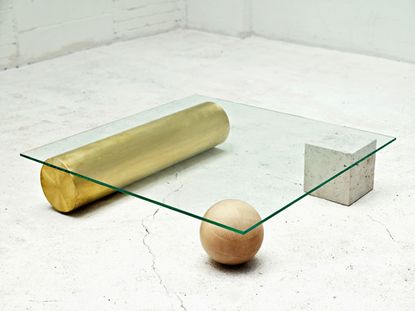 (Image credit: press)
That Faye Toogood grew up in the countryside makes perfect sense; Studio Toogood's first ever collection of objects, 'Assemblage 1' pays homage to rural life. Take, for instance, the 'Spade' series of chairs and tables, which, as the name alludes, are inspired by that most staple of country tools; there is also a similarly self-explanatorily named corrugated wood 'Silo' cabinet. Meanwhile, all the materials used - including Portland stone, sycamore, brass, glass and even farmyard hessian - are sourced from the English countryside.
'I had a knowledge of all these wonderful craftsmen when I worked as a stylist for World of Interiors,' says Toogood. 'They know how to makes things, but they are not being given a chance to do it. We cannot let their skills die, we've still got it, so we should cultivate it and be prepared to pay for it. We will pay more for food at farmers' markets, so why not for furniture?'
Having spent 12 years working for a myriad of brands and magazines, Toogood felt that 2010 was the right time to launch her inaugural collection. 'As a designer, I often couldn't find quite what I was looking for. It's nerve-wracking because I know so many people in the industry, but I felt I had a lot to say. g elegant and feminine, which is not twee. I am attracted to materials from the natural world.'
Toogood worked with the old, the found and the natural to create 'Assemblage 1', fortuitously tapping in to a zeitgeist for the reclaimed, though, she insists, it is by happy accident that her customary modus operandi has hit the right note.
'I feel drawn to the countryside,' she says. 'My father was an ornithologist, so we were always foraging for mushrooms and as a consequence, I am naturally attracted to the raw.' It stands to reason then that 'Super Natural', the Studio Toogood London Design Festival project at The Garage where the collection launches, and which is dedicated to collecting from and observing the English countryside, features Mrs Tee, the only licensed mushroom New Forest forager.
For now though, Toogood remains unassuming about 'Assemblage 1'. 'I am not a furniture designer,' she says. 'But I wanted to have a go.'
ADDRESS
The Garage

1 North Terrace

London SW3 2BA
VIEW GOOGLE MAPS (opens in new tab)