Shore thing: SMR Days designs resort wear for everywhere
'We wanted to offer a something in its totality,' says co-founder Dan May of the mindset behind the resort wear label SMR Days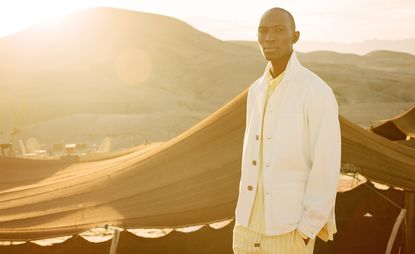 (Image credit: Tom Craig )
Picture touching down at your favourite far flung location, be it a sandy beach in Bermuda or the deck of a catamaran, moored off an island in Greece. You're safe in the knowledge that pre first refereshing dip, first mood-boosting cocktail, or first nibble of something sublime, you won't be sifting through a suitcase with a hodge podge of ill-matching holiday items. You'll be choosing from a well-curated selection of soft, expertly crafted pieces in striped sunshine yellow and patterned tie dye, that will take you from daytime deckchair to dinner, with elevated ease.

'We wanted to offer something in its totality: you can travel in it, you can wear it before you leave and when you get there,' says co-founder Dan May of the plane-to-poolside mindset behind vacation label SMR Days. The stylist and consultant is part of a trio of industry veteran founding brand members, alongside PR expert Adam Shapiro and brand specialist Gautam Rajani. When conceiving the label, the three noted that the resort wear category for women was chock-a-block with labels offering a wardrobe of floaty separates, cover-ups and colourful swimwear. But for men, it was notably absent.
'Accessible but elevated,' Shapiro says of the label's DNA, which offers versatile, upliftingly-hued pieces with artisanal details, suitable for men with a keen eye for relaxed style and attention to craftsmanship. 'It's not too fashion-led, but also not too classic,' he adds. The result of this stylistic sweet spot? Think drawstring trousers and reversible kimono jackets, tunics and workwear gilets, in cotton, silk and linen. 'Gautham grew up in India, and really educated us about the country's amazing artisanal heritage,' May says of the details in the collection, which include Indian bandhani tie-dye and kantha embroidery. 'We're providing craftspeople with the means to continue these techniques,' Shapiro adds. 'Working with local artisans is really the backbone of the brand.'

SMR Days was set to launch back in April, but in the wake of Covid-19, it's on-sale debut was delayed. In lieu of physical clothes, the label launched a digital 'Postcards' section on its website, featuring uplifting getaway images submitted by leading image makers, which provided those confined to the home with a much-needed taste of travel. These include a breathtaking shot of a plane coming into land at Rio de Janeiro's Galeão airport, lensed by Marco Chaves, alongside a shot of a child leaping from a diving board into the open sky in Pescara, Italy, photographed by Emiliano Bossoletti.

Now, when you fantasise the snapshots from your future summer getaways, you also have the wardrobe for the ultimate imaginative escape.
INFORMATION
smrdays.com (opens in new tab)