House rules: Richard Wentworth captures the inner sanctum of maison Alaïa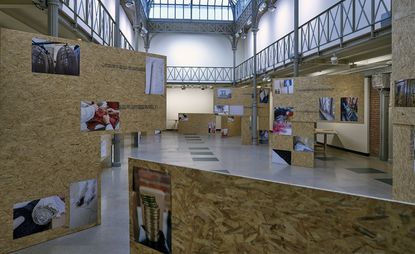 (Image credit: Courtesy of Galerie Azzedine Alaïa​)
Wallpaper* Newsletter
Receive our daily digest of inspiration, escapism and design stories from around the world direct to your inbox
Thank you for signing up to Wallpaper. You will receive a verification email shortly.
There was a problem. Please refresh the page and try again.
Of all the exhibitions that have been mounted thus far at the Galerie Azzedine Alaïa, an evocative presentation of photographs by Richard Wentworth is the first to turn inward on the maison. The estimable British artist treats one of the most venerated names in fashion with remarkable closeness; yet his access and acceptance as an insider yields a series that reveals details little by little, free of linear structure or imposed emotion. Each glimpse feels spontaneous, yet nonetheless in deference to Alaïa's rarefied craft and communal culture.

But the full extent of intention is largely communicated through the show's scenography, which actually exists as an on-site sculpture. Nailed onto plywood boards staggered throughout the versatile atrium – the same one that has been transformed into a runway venue or showroom – the unframed prints could be alternately perceived as fragments of activity, output and architecture surrounded by expanses of space; presumably all the moments left undocumented.

This becomes even clearer when Wentworth points out how the nails, in a sense, represent quotation marks. In addition, he placed mirrors the size of each print at points high and low along each panel. 'The convention of exhibiting photographs is you put them behind glass and we pretend not to see that,' he explains of this added element. 'I'm very interested that this is full of reflections – it's all to do with encounter.' And within a space that he describes as 'somewhere between the church and strip club – a bit of vaudeville, a bit of theatre, a bit of the cardinal', he says he felt the impetus 'to make it talk'.
Indeed, much the same way Wentworth, who received his Commander of the Order of the British Empire in 2011, has historically assembled sculptures from found objects by considering their intrinsic behaviour or language, the selection of 150 images – edited down from some 3,000 – draws attention to elemental parts of the Alaïa universe through acute observation rather than narration. Or as he puts it: 'It's definitely not illustrative.'

Instead, his non-hierarchical curiosity results in an image of Post-It notes stuck to someone's knee; an errant swatch of black lace; the upper shelf of a dishwasher loaded with mugs; models in white robes concentrating on what's likely their rehearsal; a hand on a seating chart; chimney tops and studio shadows; and an armless mannequin that could be in a museum instead of a storage room. 'I photograph to remind myself that it's a truth,' he says, as if these moments were almost too real to be believed.

But the realness is undeniable as we sit in the compound's kitchen surrounded by barking dogs, team members hauling oversized boxes and the early signs of dinner preparation. Unsurprisingly, Wentworth sees potential in all of it – except as the show makes clear, his interest lies not in depicting the entire scene but in capturing the aspect that best projects the situation's uniqueness. Imagine this one instance multiplied by a few days, a few times a year over three years and that's how he ended up with a collection that suggests his constant presence without a trace of interference.
In the accompanying book, Monsieur Alaïa relates, 'When looking at the photographs he has gathered, pictures of the things we do without even thinking about them, how we live without being aware, I have been fascinated by his precision. I became aware that his generosity is absolutely exact: there is not a single ordinary picture.'

Interestingly, though, Wentworth has conjured up the late French filmaker and essayist Georges Perec's notion of the 'infra-ordinary' – the things that are wondrously banal and quotidian – through visions of storage or the scrawled word 'cuir' (leather), amidst the poetic close-up of hands sewing a garment or Monsieur Alaïa adjusting a model's look before sending her out on the runway. Wentworth even took a photograph of a photo pinned to be a board he found somewhere in the studio that just so happens to cpture him seated in the front row of a show. Like a readymade self-portrait, it is playful proof that this series is stamped with his signature.

Donatien Grau, an art critic and curator who acts as an ongoing consultant for the Galerie and made the introduction between Wentworth and the designer roughly five years ago, notes how the exhibition ultimately is not about the house as much as the dialogues it invites. 'As a prominent artist, Richard has never been close to fashion. Here is a dialogue that doesn't have to do with fashion but the legacy of couture – the making of things.'

Meanwihle, at the vernissage, as I stared at a photograph featuring bolts of fabric, a woman passed by in an Alaïa skirt visible through Wentworth's arrangement of panels. Might he have anticipated this juxtaposition? Consider his first remark from our conversation: 'I think the base of my interest is that in order to be in the world, we make things. But while we're arranging things, the world is actually arranging us.'
INFORMATION
'Richard Wentworth at Maison Alaïa' is on view until 26 November. For more information, visit the Galerie Alaïa website
ADDRESS
Galerie Alaïa
18 Rue de la Verrerie
75004 Paris
Receive our daily digest of inspiration, escapism and design stories from around the world direct to your inbox