Erdem A/W 2020 London Fashion Week Women's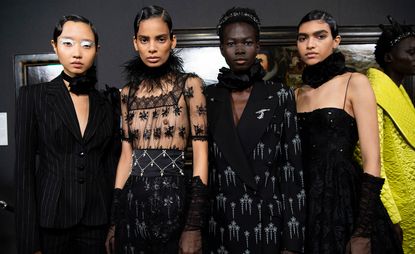 (Image credit: Jason Lloyd-Evans)
Mood board: In an age when social media has made our movements contrived and restricted, it's hard to imagine a collective of young free individuals dressing up simply for fun (rather than Instagram Likes). The Bright Young Things of the 20s and 30s – a group that included debauched aristocrats and bohemians – from Diana Mitford to Stephen Tennant, were famously lensed by society photographer Cecil Beaton, who as he rose through the ranks of society acclaim, practiced portraits with his sisters Nancy and Baba, photographing them infront of tin foil backdrops with bed sheets and feathers. The Robin Muir-curated Bright Young Things exhibition which opens at The National Portrait Gallery in March, inspired Erdem's A/W 2020 collection. It was one brimming with escapist, ebullient silhouettes — from sweeping opera coats to frilled gowns, nipped in trousers suits to pussy blouses, all shimmering with foil-evoking silver jacquard, lurex and glitter. Beaton also shot portraits of himself in drag during the 20s, against fabric backdrops of stars, checkerboard and polka dot. These references were evoked in tessellated prints across cap sleeve blouses, lean dresses with puffed shoulders and fluid skirts. Coronavirus, Brexit, Storm Dennis: there's plenty to cause existential angst during the shows, but like the power Beaton had harnessed through his transformative portraits, Moralıoğlu's offering bought a joyful and transformative escapism to London Fashion Week.

Finishing touches: Moralıoğlu updated the adornments sported by his Bright Young Things (a puffer jacket and a mohair sweater in grungy stripes even featured on the catwalk). Cue beanies swathed in beads (Molly Goddard too amped up the winter staple with big taffeta bows earlier on in the week), chokers sprouting plumes of ostrich feathers and cute buckled sandals with raised flatforms.

Best in show: A flapper dress festooned with scalloped strings of pearls evoked an outfit worn by Beaton in 1927, when he posed in drag as Bright Young Thing Teresa Jungman. Jolly, transformative, and with a soupçon of sparkle.