Resort state of mind: the sun sets on Nicolas Ghesquière's Palm Springs Cruise show at Bob Hope's iconic home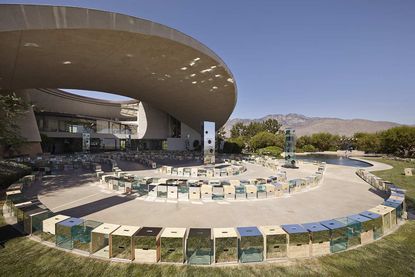 (Image credit: Courtesy of Louis Vuitton)
Nicolas Ghesquière's latest leap for the house of Louis Vuitton (opens in new tab) touched down at the futuristic former abode of comedian Bob Hope and wife Dolores in Palm Springs last night. The artistic director's second Cruise collection was shown in the shadow of the modernist residential landmark, which was designed by architect John Lautner in 1973.

Under the fading Californian sun, the concrete cupola hovered over the surrounding desert landscape, offering up sweeping views of the Coachella Valley and San Jacinto mountains. Resembling a hybrid between a space ship and a volcano, the site's undulating roof features a precise circular cutout that illustrates the architect's technical prowess, while also allowing both the blue desert and starry night sky to penetrate the home's central courtyard.

The UFO-like building has been a design inspiration for Ghesquière since he first laid eyes on the out-of-this-world structure. (The home is also currently on the market for around £33 million.) 'This estate demonstrates an approach that mirrors our own,' explained Louis Vuitton chairman and chief executive officer Michael Burke, 'it is creative above all.'

The commanding arid setting instantly coaxed guests into resort mode - Palm Spings, of course, being the place that came to symbolise the success of the American dream during the 1950s - 1970s. These are decades that also couched Ghesquière's designs, which were inspired by showman David Bowie's 1983 British horror film The Hunger that he starred in alongside Catherine Deneuve (the French actress in fact sat front row at the show).

The collection itself was fuelled by exquisite craft techniques that manifested a futuristic yet bohemian spirit, dominated by long, fluid hemlines - the romance of which was further magnified by the venue's crossing of the built with the natural world. The show's opening harnesses and chain prints were derived from German artist Urs Fischer's 'Problem Painting' (opens in new tab) series, while the house's Petite Malle trunk clutch was festively updated with palm fronds, and carried by models who sported high-top sneakers, Geisha-style flip-flops or suitably futuristic Perspex-heeled booties around the paved terrace. All told, the house more than eclipsed its 'art of travel' tagline.