Louis Vuitton S/S 2020 Paris Fashion Week Women's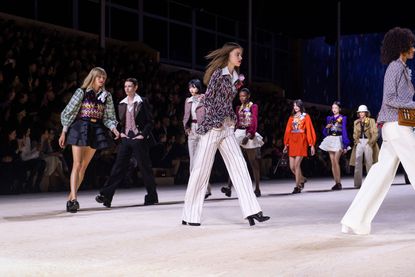 (Image credit: Jason Lloyd-Evans)
Scene setting: Nicolas Ghesquière has the power to turn the Louvre each season into whatever his mind summons, be it the never-ending corridors of a futuristic spaceship or, as last season, the outside of Beaubourg complete with a retro rendition of Renzo Piano's Centre Georges Pompidou façade. This time, though, he chose simplicity.

In an outside cour just past the pyramid entrance of the museum, the French maison had installed a plywood box-shaped building with generous light, a cream carpet and what seemed to be a wood-patterned background… which, as the show started, turned out to be a giant screen, in which the video for It's Okay to Cry started playing, doubling as the show's soundtrack. Released last year, the song was written by Glasgow-born musician Sophie (best known for producing for Madonna or Charli XCX) and the colourful, cosmic-inspired video set an otherworldly tone for fashion month's last show.

Best in show: The collection, however, didn't look forward as much as it did back. At Ghesquière shows, guests are trained to expect one or the other; however, no one had seen this season's inspiration coming: Belle Epoque-era Paris. Backstage, the designer referenced the illustrations of Alfons Mucha and the works of Marcel Proust, but there was also a reflection on how the early 21st century mimics the early 20th century, with its technological revolutions and societal changes.

On the catwalk, those musings were expressed through hi-tech fabrics covered in Art Nouveau prints viewed through a Biba and Carnaby Street filter. Proportions were mini, shoulders were structured but never oversized, waists were cinched and volume play was concentrated in the sleeves. A rich colour palette and texture variety gave the collection a distinctly modern appeal.

Finishing touches: Accessories – undeniable eye candy at Ghesquière's Vuitton –mixed classic monogrammed totes, new best-sellers including the egg-shaped bag, which this season took on bigger proportions and a softer, less structured quality, and pop culture references, in the form of VHS cassette-shaped leather bags with fictional movie titles that referenced the early history of the Vuitton maison.

History was also in the hair, a brilliant mix of late 60's high volume and Gibson girl buns paired with a pristine makeup look that directed all the attention to the Burgundy-tinted, glossy mouths. If the collection will be present on all the trend reports of the season, so will the accessories and beauty. Last night, Nicolas Ghesquière proved once again that his creative vision is global.