Q&A with Guillaume Brochard, CEO of Qeelin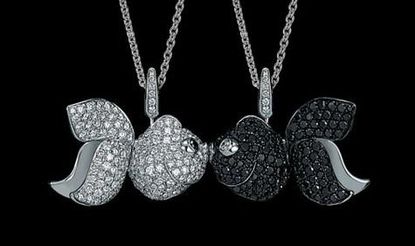 (Image credit: press)
Co-founded back in 2004 by French jewellery mogul, Guillame Brochard and Chinese design visionary Dennis Chan – Qeelin is arguably the first luxury brand to be born, and indeed succeed, in Mainland China.
And when it comes to luxury, where better to start than with the opulent art of jewellery design. Launched in France, Qeelin has rapidly been rolled out across Europe, the Far East, and of course China over the past five years.
Headed up by a Chinese designer and a French financier, Qeelin prides itself on a combination of distinct Chinese aesthetic and peerless French craftsmanship - qualities which have granted Qeelin the run of China's burgeoning luxury Market.
Company CEO, Guillaume Brochard, has taken some time out of his schedule to talk to us about why, when it comes to design, it's for the best that he keeps his head in the ledgers.
To your mind is Qeelin first and foremost a French or a Chinese brand?
Qeelin is a blend of both. The brand and the collections are inspired by the Chinese culture and symbols. The craftsmanship is French. It is definitely an East meets West concept. I guess that is what makes Qeelin seductive to customers from all over the world
See the couple's showroom and examples of their individual and joint work
You've worked all over the world, what drew you back to China?
My first stay in China in the 80's was too short. I had to leave the country unexpectedly due to the Tiananmen events. I always thought I would come back to fulfil my curiosity in China, it's people, it's culture. And eventually, I did.
How did your working relationship with designer and Co-founder Dennis Chan come about?
I met Dennis Chan while living in Hong Kong in the 1990's. He was an up and coming designer back then. I was the Head of Tag Heuer North Asia and he became a brand ambassador. We kept in touch afterwards and, a few years later, he came to visit me in Switzerland to introduce Qeelin. After having been a consultant for a couple of years, I decided to step down from my job as President of Ebel and launched Qeelin with Dennis. Thinking backwards, it was quite daring!
To what extent do you involve yourself in the creative direction of the brand – do you get involved with the design?
I used to - at the beginning. But I quickly found out that Dennis did not need my inputs at all! He has been doing a fantastic job since day one. I'm more into sales, marketing and finance.
China has been booming for a while now, why has the luxury market taken so long to emerge?
Luxury is usually not the main priority for an emerging country. There are many other fields where they must first catch-up. Then there is the import tax – for years, buying a luxury good in China was much more expensive than buying the same item abroad. This is less relevant today. Moreover in the 90's' luxury groups were focusing their Asian investments on Japan. There were only very few boutiques of luxury brands on the Chinese market itself.
What barriers did the Chinese market pose in the process of founding Qeelin?
I wouldn't really talk about "barriers". The challenge was to set a strategy in order for Qeelin to be perceived as a luxury brand by and for the Chinese people. They tend to think that all luxury brands come from abroad. That's why we decided to launch the brand abroad first, namely in France, Hong Kong, the Japan and the UK, before mainland China.
What is it about Qeelin that has made it such a success, both in China and internationally?
I believe the success of Qeelin is mainly related to the collection itself. Qeelin brings a bit of fresh air in the world of jewellery with its meaningful designs, chic yet not too formal, mysterious, intimate, flexible, very unique and original.
Do you think the Chinese appreciate the element of 'French Craftsmanship' on Which Qeelin is founded?
France remains, with Italy, the worldwide benchmark when it comes to Jewellery craftsmanship and know-how, and it is perceived as such by the Chinese people themselves.
Where do you see the Chinese luxury market moving next? Are you planning on expanding into any other areas?
Yes we are. We'll be introducing Qeelin's first watch line this Christmas - a natural step for a jewellery brand. Especially for someone who has spent almost 10 years in the Swiss watch industry before launching China's first jewellery brand
Where are you based now? France or China?
It is hard to say. Let's say I am in between, or in both!
Jack Moss is the Fashion Features Editor at Wallpaper*. Having previously held roles at 10, 10 Men and AnOther magazines, he joined the team in 2022. His work has a particular focus on the moments where fashion and style intersect with other creative disciplines – among them art and design – as well as championing a new generation of international talent and profiling the industry's leading figures and brands.