Q&A with François-Henri Pinault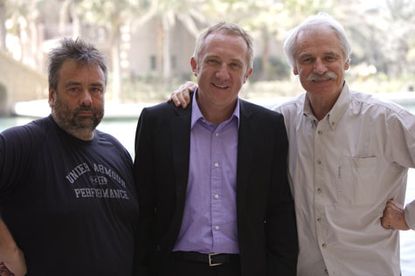 (Image credit: press)
How did you first get involved with Home?
When I met Yann (Arthus-Bertrand) and Luc (Besson) 2 years ago in July 2007, they proposed me to join them in this huge project and I didn't hesitate! The combination of the film's topic, its beautiful images, and its unprecedented distribution model are what convinced me to support this initiative. Yann, Luc and I share a common ambition: to spur an understanding of the challenges facing our planet and communicate about them, to raise a broader awareness about our social and environmental responsibility. It is also intended as a call to action for everyone of us.
How involved has the PPR group been in the Home project besides sponsorship?
Supporting this film represents and extraordinary opportunity for PPR. This partnership symbolizes our Group's commitment to social and environmental responsibility and our intention to progress in this area. Our support for this film is in and of itself an act of corporate citizenship and a commitment for continuous action.
I am very proud of PPR's support of HOME, which goes well beyond its financial support. Our 88,000 employees are mobilized from all businesses and all brands to service the same cause: promote awareness that leads to action and a change in behaviour. This film commits us not to consume less, but to consume differently. Moreover, all our brands, thanks to their expertise, have been very involved in the promotion of Home : CFAO ensures the exclusive distribution of HOME in 23 African countries, Gucci Group brands such as Gucci, Yves Saint Laurent, Bottega Veneta, Alexander McQueen have developed responsible products bearing Home: t-shirts, bags, scarves…as well as La Redoute and Somewhere (Redcats Group's brands). On its side, Fnac will distribute the DVD at cost price in France.
What will happen once Home has been shown – is it the first step in an ongoing collaborative campaign?
Our support for this film reflects a deep personal conviction. I can't conceive leading a group like PPR without a commitment to social and environmental responsibility. That said, and I know this for a fact, no one can claim to be beyond reproach. That is why, in supporting HOME, the group underscores its strong commitment: pursue our social and environmental policies that we have undertaken for some time, with ambition and determination.
Do you think there's a danger that environmental responsibility might be seen as a trend – that people will lose interest once the initial impact wears off?
Sustainable development and more generally CSR are integrated in our everyday life. Besides being a personal conviction, I believe it became a duty for businesses. This trend will impact more and more strongly our business strategy. This is not a fashion trend bolstered by a media craze.
Moreover, I think that the growing interest of our consumers for sustainable development, for ethics and for responsible products is a deep trend, and, in my opinion, irreversible. The current economic environment is difficult but I think our customers are truly aware of the challenges of safeguarding our planet.
How do you define 'sustainable luxury', which some might feel is a bit of a contradictory expression?
These two concepts of "luxury" and "sustainable development" are in apparent contradiction, but actually I'm convinced that Luxury and sustainable development share common values, which are the timelessness of lasting worth, and the passing on of knowledge, as well as the protection of talents and natural resources. The quality of luxury is based on fine materials, respect for the material, and for the craft itself that result in a rare and beautiful object. Just like luxury, sustainable development is founded in essence on respect for natural resources and for human beings.
Does added social and environmental responsibility result in a higher price tag for the end product?
No I don't think so. An eco-friendly product doesn't necessarily mean a more expensive product.
Although sustainable development is often perceived as a restriction, I see it as a business opportunity as well.
In addition, sustainable development encourages technological innovation and to that extent represents a magnificent opportunity. We must renew our efforts to find economically viable solutions that are also friendly towards nature and people. Finally, integrating CSR criteria creates savings if achieved upstream rather than at the end of the process. Examples of this can be found in what we are doing in logistics, transportation and store fittings. So it is in our own interest to integrate all sustainable development criteria upstream in a holistic approach that takes into consideration the entire life cycle.
Is it about making the brand more socially responsible or answering consumer wants and needs?
I have observed that our clients are ever more aware of such issues and are changing their own purchasing criteria. They want their consumer choices to regain meaning, and increasingly they want those choices to be in accordance with their own values. The success of the Gucci line partnered with UNICEF bears witness to this. In contrast, failure to comply with the requirements of sustainable development may result in a client avoiding a brand. We are all aware that there is nothing more important than protecting a brand, the values and the reputation which are the guarantors of its lasting value. It takes decades to build up a brand, which can be destroyed in one moment.
How do you feel it's possible to shift the widely held belief that environmentally driven products sacrifice good looks?
The success of the Stella McCartney brand and its certified-organic cosmetic line "Care" is living proof that sustainable luxury does not sacrifice good looks!
How is your group making concrete changes to reduce its impact on the environment? (transportation, packaging, natural materials etc)
We have endeavoured to structure our mission around priority issues for our Group. Starting from our rules of corporate governance and business ethics as a foundation for our thought process, we first selected 7 key challenges linked to our business activities over the next three years. These issues concern firstly our employees towards whom we have a prime responsibility, in terms of employability among other. Personnel diversity is another key priority essential for our Group. We also identified other challenges relevant to our business model, linked for instance to the supply chain, our suppliers, logistics, stores, offices, warehouses and of course to the products we sell. The idea is to reduce our environmental impact overall. Our community involvement is a further major component of our social commitment to give meaning to our business activities. Each PPR Group brand and company defines its own goals for each key challenge, and individual plans are reviewed twice a year by the CSR Committee.
Receive our daily digest of inspiration, escapism and design stories from around the world direct to your inbox
Jack Moss is the Fashion Features Editor at Wallpaper*. Having previously held roles at 10, 10 Men and AnOther magazines, he joined the team in 2022. His work has a particular focus on the moments where fashion and style intersect with other creative disciplines – among them art and design – as well as championing a new generation of international talent and profiling the industry's leading figures and brands.