Colour scheme: Peter Pilotto's prismatic London townhouse takeover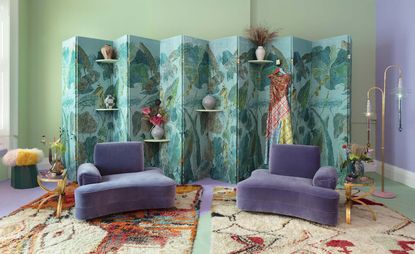 (Image credit: Press)
Step inside the sprawling east London studio space of Peter Pilotto (opens in new tab) and among the rails of colourful and intricately embroidered clothes, toiles and fabric swatches, you'll find a spectrum of Martino Gamper (opens in new tab)'s colourful 'Arnold Circus' stools. These angular pieces formed the seating of the brand's A/W 2017 (opens in new tab) show space; now, new versions of Gamper's design, upholstered in the brand's colourful fabrics, are available to buy at its pop-up design space in South Kensington. The brand's three-storey takeover of a townhouse in Cromwell Place is part of Brompton Design District's 'Other Stories' initiative for the London Design Festival.

Peter Pilotto's eclectic installation features an assemblage of exclusive designs from not only Gamper, but a host of the brand's artist and designer friends. It is an extensive iteration of the temporary space that the brand opened earlier this year, just a short hop away at Thurloe Place.
Resembling both a gallery setup, a vibrant home and a showroom, this curated two-room space featured furnishings seen in its A/W 2017 domestic interior-inspired runway. Held at the Palm Court at the Waldorf Hotel in Aldwych, the show featured a triptych of paintings by Peter McDonald, a Bethan Laura Wood-designed geometric print sofa and colourful tufty rugs by Max Lamb (opens in new tab).

'It's all about showing people what surrounds us and our brand,' explains co-founder Peter Pilotto. 'We are so inspired when we're in our friends homes or studios – that's the kind of feeling we want to give to people,' the brand's other half, Christopher de Vos. To wit, the South Kensington installation includes a vast dressing room, populated with colour blocked mannequins, clothes hangers and fabric screens. Upstairs on the third floor, the brand's colourful A/W 2017 collection can be found on display.

Furnishings and artworks by McDonald, Lamb, Wood and Schmid McDonagh populate the space, amongst ready-to-wear pieces. For A/W 2017, these include embroidered tweed outwear, bright leaf-detail velvet dresses and knitwear with Peruvian motif patches. The space also features delicate vases and jugs by glassblower Jochen Holz, who designed a range of organic curving earrings for the brand's current collection. A selection of hand-knotted rugs, created by artisans in Ecuador, and graphic blankets spun from recycled yarns from its previous collections also feature.
Artist Francis Upritchard also made the ceramics that are dotted around the space. Peter Pilotto have collaborated with the artist for several years. In 2012, they worked on a series of colourful scarves for Studio Voltaire. For the brand's S/S 2017 collection, Upritchard's dinosaur and 'Grumpy Moon' illustrations also appeared as colourful patches on denim, caps and gingham shirts. 'Peter and Christopher both have a fantastic sense of texture and colour,' she says. 'I've also used some of the patches on my small cap designs, and used their fabrics in some of the clothes for my figurative works.'

'We were putting all our energy into show sets that the next day were gone,' Pilotto explains of the decision to bring details of the brand's catwalk set ups into more concrete settings. 'The space is demonstrating how its elements can be used and translated into different directions, which have more longevity.'

'Our creative process is very much a conversation and exchange,' says Martino Gamper, a frequent Wallpaper* collaborator, of his work with Peter Pilotto. 'Since Peter and Chris are good friends of mine, we spend a lot of time together talking about each other's work. They've added their own sensibility to my "Arnold Circus" stool.'

The project also reflects the brand's fascination with the slower, more finite pace of the design world. It exists in a stark contrast to the swift seasonal pace of the fashion industry, where clothing collections are presented during a catwalk show that lasts a matter of minutes. 'This is why working in London is so great,' Pilotto says. 'You have all these people that support fashion, and some of these designers are happy to be part of the world that we've created. We dine together and discuss a range of different things. We're all interested in each other's worlds.'
INFORMATION
Peter Pilotto's pop-up is open until 24 September. For more information, visit the Peter Pilotto website (opens in new tab) and the Brompton Design District website (opens in new tab)
ADDRESS
3 Cromwell Place, SW7 2JN
VIEW GOOGLE MAPS (opens in new tab)