Waste not: the menswear labels championing an upcycled aesthetic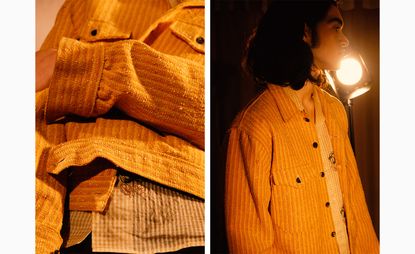 (Image credit: Alina Negoita)
We're on the warpath against wasted materials. Lucky for our everlasting aeshetic, three menswear labels are championing revamping antique fabrics to fit an eco-friendly lifestyle, and are part of a new generation of sustainability advocates upping the potential of landfill-destined threads.

Here, we take a look at what treasures Bode, John Alexander Skelton and Xenia Telunts are laying their hands on for S/S 2019...

Bode
Inspired by the familial histories and personal narratives infusing antique textiles and heirlooms, Emily Bode (opens in new tab) reinterprets historical, female centred techniques – such as quilting, mending and appliqué – in new fabrications for her New York-based brand. The brand turns three this summer, and has been nominated for this year's LVMH Prize. As a thorough archivist, Bode grew up collecting vintage men's clothing, such as school gym uniforms and workwear, but also quilts and mattress fabrics found in flea markets, that she now reworks in modern, boxy silhouettes from her Chinatown studio.

'Because of the nature of the textiles, it has been a priority to continue working with individual tailors to make the majority of our clothing,' Bode says of her approach to making one-of-a-kind garments. 'I am passionate about reinvigorating American manufacturing and aiding in bringing back the emphasis on craftsmanship into luxury menswear.'

This season, the designer explored the rich heritage of her long-time collaborator, Canadian artist Aaron Aujla. As a Punjabi descendent and third generation immigrant, Aujla's Indian roots have interplay with his British-Canadian surroundings. This cultural clash pervades the collection where traditional Khadi fabric – a hand spun natural cotton cloth – is turned into rugby uniforms, while colourful silk and linen shirts are embroidered or screen-printed with historic Indian designs. Aujla also created a collection of furniture, which echoes the same materials and techniques. This exploration in repurposed homeware is one that the label is planning to further develop in the future.
John Alexander Skelton
There's a story behind each piece designed by John Alexander Skelton (opens in new tab) for his eponymous brand. Since Skelton graduated from Central Saint Martins in 2016, he's produced six numbered collections. Materials are mostly sourced in the UK and India – most of them hand embroidered or coloured with aged natural dyes – which fits the designer's own narratives around crafts and folk traditions. 'I'm a very small fish in the pond but I would like to be able to support crafts people – like hand weavers in India – to enable them to keep going,' he says. 'As a designer, I'm part of the last generation to still be able to use those really amazing fabrics so they don't get lost.' Antique French fabrics, grain sacks and old house linens are left in their natural state, only for Skelton to reveal their luxurious details and rich history into repurposed coats. Well-worn wax cotton jackets are also turned into beautiful tailoring.

Without making sustainability the primary focus of his label, Skelton's attraction to natural fabrics and handmade techniques goes hand in hand with the idea of producing garments that last with the highest quality possible, while also keeping complete control over the production of unique pieces. 'My idea of upcycling is when you find something that is really interesting, you give it a new life and change someone's perception on the material just by using your own imagination.'

Xenia Telunts
Based in rural Yorkshire, Xenia Telunts (opens in new tab) moved to England from Moscow where, looking back at the USSR, upcycling used to be a necessity rather than a trend. She studied at London College of Fashion before starting her sustainable label in 2017. By reworking utilitarian Soviet workwear, such as the fufaika coat made by quilting different layers of fabric together, Telunts brings a contemporary edge to a unisex wardrobe of functional pieces, created with zero-waste pattern cutting, organic fabrics and ethical responsibility. 'While studying at LCF, I began using natural dyes initially for the aesthetic,' explains the designer. 'But once you begin researching natural techniques, and you start learning about the impact of commercial, chemical dyeing, you can't really go back.'

Working very closely with manufacturers, Telunts consciously chooses her materials, such as hand woven cotton from India or vintage linen cloth, through a small community of makers, and designs clothes at a reduced scale to minimise waste. 'I'm seeking something that has minimal impact on the environment but the most positive effect on the people who make and wear it,' she says. For her S/S 2019 collection, the designer moved from darker, heavier pieces to a muted palette of more fluid silhouettes, while also developing patchwork pieces with repurposed fabrics.
INFORMATION
For more information, visit the Bode website (opens in new tab), Johh Alexander Skelton website (opens in new tab), Xenia Telunts website (opens in new tab)