When Wallpaper* fashion team was part of Marni S/S 2022 show
Milan Fashion Week's Marni S/S 2022 show was an immersive and inclusive celebration that put the audience, Team Wallpaper* among them, at the heart of the action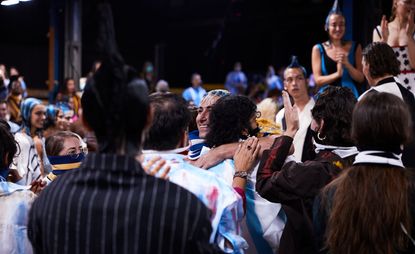 (Image credit: Marni)
The concept of a creative community is synonymous with an in-person fashion show, but one that, ironically, is frequently missing from the seasonal catwalk junket. A well-noted criticism of a runway show can be the disconnect between the clothing on the catwalk and its audience or consumer, or the lack of connection between a creative director and the brand they work for.
After 18 months without physical runway shows, the S/S 2022 fashion season has offered brands and designers the chance to reconnect with their creative circle and audience, and cultivate experiences brimming with authenticity, forward-thinking and enthusiasm. With his spring show for Marni, creative director Francesco Risso rose to the challenge, hosting a show celebrating community, the spirit of collaboration, one which boasted audience engagement, live music, innovative and optimistic silhouettes and a magnificent sense of meaning.
Marni S/S 2022: a moment of creativity and inclusivity
'A collection about the act of getting dressed to be together. An action of trying on, fitting in and fitting out that connects the audience and the show, the observers and the observed,' wrote Risso in Marni's show notes of a concept that began when fashion journalists and buyers touched down in Milan, and were invited for a personal clothing fitting at the brand's industrial Viale Umbria space.
Here, guests were met by Marni's design team and, in dedicated fitting rooms, were offered a variety of cotton Marni pieces, from paint-streaked sundresses to shirting, pleated dresses to worker jackets, all detailed with a canvas patch outlining the limited number of the 800-strong 'Marniphernalia: Miscellaneous Handpainted Treasures'. Wallpaper* fashion director Jason Hughes was fitted with a beige shirt with orange and white streaks of paint, while fashion editor Laura Hawkins looked to pleated dresses accented with blue splashes.
The Marni show-cum-happening was held at a vast industrial space, where guests, all clad cultishly in their colourful DIY designs, sat in a circular runway formation formed from rickety wooden panels. The atmosphere pulsed with energy as the show began with a spoken-word performance by poet Mykki Blanco and also featured live music from the singer Zsela and an orchestra dotted around the audience, with composition and creative direction by Dev Hynes and Babak Radboy. A diverse mix of models, with various body types, circled the audience, finally ascending a podium at the centre of the show space, swathed in tattoos and sporting paint-streaked wigs by Julien d'Ys, stripes and naive daisy prints, dresses with bold cut-outs, oversized ponchos, and XL suiting.
In the final ascent of inclusion, which saw models and musicians immersed within the Marni audience, Risso walked amongst his models, wearing striped trousers and a huge oversized scarf. 'Everything and everyone as one,' read his show notes. Marni, a true representation of modernity.
INFORMATION
marni.com (opens in new tab)