Marni A/W 2019 Milan Fashion Week Women's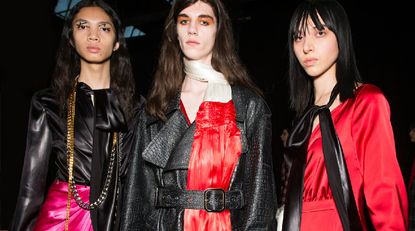 (Image credit: Jason Lloyd-Evans)
Mood board: 'Follow what the hormones suggest to you, sabotage every behaviour and misdirect respectability', read the directive show notes to Francesco Risso's A/W 2019 collection. He was preoccupied by the game we play in our heads, running from our unbridled, erotic thoughts. For autumn, he suggested, we should all be embracing these internal notions head on and 'do away with respectability and censorship.' Shapes were diced and reinterpreted, bourgeois pleated skirts ruched asymmetrically, coats spliced at the shoulder, dresses formed from a patchwork of silks, draped, pleated and with only one shirt collar. Colours clashed in black, white, orange and pink. Prints were pixelated with houndstooth patchwork.

Scene setting: The vast industrial show space on Via Privata Giovanni Ventura was split into a series of interconnected rooms, varying in size and seating. Each was like a representation of the inner chambers of the brain, and the antithetical thoughts upon which Risso ruminated. In one room, a wall was made entirely of stacked speakers, amplifying his vision, and symbolically turning up the volume on our internal contemplation.

Best in show: The spliced and reconstructed dresses were particularly strong, and subverted notions of the sophisticated silks on display. Chain belts were bourgeois, but on closer inspection their links, constructed from padlocks and mismatched metals, had a punkier sensibility.