Marni S/S 2019 Milan Fashion Week Women's
Francesco Russo takes us on an epic style adventure, traversing mythology and ancient monuments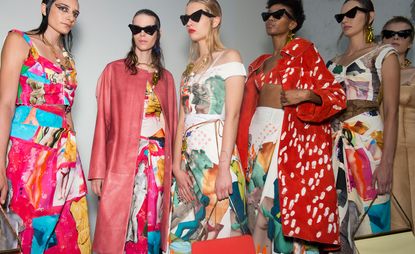 (Image credit: Jason Lloyd-Evans)
Scene setting: Since Francesco Risso took the creative helm of Marni in October 2016, we've had runway sets evoking junk filled storage cupboards and exercise ball-filled underground gymnasiums. For spring, Risso had frazzled editors fantasising about a Sunday lie-in, with a show set lined with an array of single and double beds. When sat amongst the duvets and pillows in retro blues and browns, the collection provided a well needed pick me up.
Mood board: Risso's collections reflect an eclectic amalgam of references. His woman is one who collects trinkets and wisps of fabrics, who wears hybrid garments and has the ability to transcend time and space in search of stylish silhouettes. His S/S 2019 show notes came in the form of a recipe, with schizophrenic ingredients like 'Ancient Greece marble, at will', 'Sharp angles' and 'White painter's canvas, in rolls'. This translated into a whimsical collection of deconstructed corsets and ruched skirts, colourful photo prints of Greek statues and busts, skirts with hems trailing with threads, beads and crystals and coats painted with pansies. It was feminine and flattering, off-kilter and eccentric, and a wonderful summation of the myriad Marni woman.
Finishing touches: Risso refines his catwalk jewellery offering each season, and the ancient Greek statues seen in his ready-to-wear prints were translated into artful 3D earrings and necklaces. Miniature torso statues, imagined not in museum-centric marble but in colourful metals hung from the ear or swung as pendants from the neck, like futuristic versions of artefacts found on historical digs.