Loewe's 'readymade' heels give outfits a Surrealist flourish
The head of a rose, a bar of soap, a candle dripping with wax – Loewe's surreal heels see creative director Jonathan Anderson draw inspiration from artist Man Ray's 'readymades'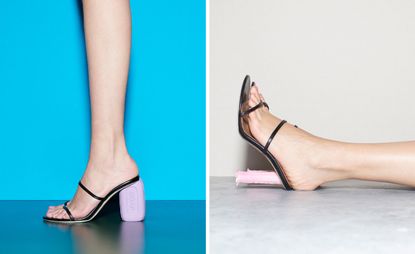 (Image credit: press)
'I wanted something erotic, psychedelic, touching on Surrealism,' says Loewe creative director Jonathan Anderson of the inspiration behind the Spanish house's S/S 2022 womenswear collection, first shown in October of last year in Paris. American visual artist Man Ray, who elevated and transformed mundane found objects – a ticking metronome, an iron, the scroll of a violin – into a series of 'readymade' sculptures during the 1920s, was the inspiration for Anderson's striking, seemingly pared-back stilettos: heels formed from the head of a rose, a lilac bar of soap, a red bottle of nail polish, a candle dripping with wax (one pair even took the form of a cracked eggshell, each yellow yolk appearing to spill out onto the runway beneath). 'There's an interesting irony within the readymade,' the designer says.
When taking in someone's outfit, we're naturally inclined to turn our attention to the ground first. 'The eye usually reads a fashion look from the bottom upwards,' Anderson says, but for S/S 2022, he asks his audience to change its perspective. At Loewe's Paris Fashion Week show – held in the equestrian training arena of the historic La Garde Républicaine, on this occasion entirely stripped of decoration to become a sparse white space 'resembling a blank piece of paper' – the brand's models appeared from a trapdoor in the catwalk, encouraging an audience to take in their ensembles from the head down. As the viewer's eye traces the silhouette, it is surprised by a final surrealist flourish featured at the sole of the foot.
'Everything appears normal, but it's not really,' Anderson explains of the choice. 'I didn't want to create a collection that was completely grounded in reality'.
INFORMATION
A version of this article appears in the May 2022 issue of Wallpaper*, on newsstands now and available to subscribers (opens in new tab).
loewe.com (opens in new tab)