'In the Heart of the Multitude': Prada's art collaboration for its S/S 2014 catwalk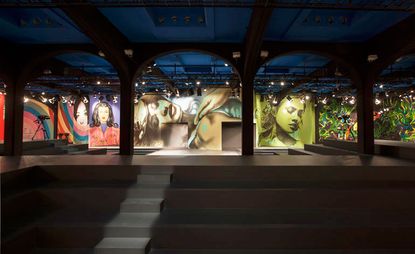 (Image credit: Photography: Attilio Maranzano)
By now, Miuccia Prada has anointed herself as the reigning queen of counterintuitive. And this applies as much to her show environments as her collections.

A muralist, for example, creates larger-than-life outdoor art that exists to draw attention away from the surroundings. Illustrators work in a comparatively micro universe, aware that while the scale may be reduced, the details remain critical. For her Spring/Summer 2014 womenswear collection (opens in new tab), Prada not only brought these two approaches together in a celebration of female form and colour, she applied the result to both fashion and backdrop alike.

Once again, she turned to AMO (opens in new tab), the creative arm of Rem Koolhaas' studio OMA, in addition to New York design firm 2x4 to achieve this fantastically frescoed setting. The runway, tiled in industrial rubber, ran the exterior of the Via Forgazzaro show space so that guests would always be viewing the models within the context of the murals.

As the models walked down this stylised 'street', their looks echoed their environment. Those enormous faces on the walls also echoed the zeitgeist-y social political art by the likes of Diego Rivera and José Clemente Orozco (opens in new tab) that defined an era. But then the athletic tube socks and Britney Spears declaring 'Work Bitch' on audio were persuasively of the moment.

Six artists - four muralists (Miles 'El Mac' Gregor, Gabriel Specter, Mesa, and Stinkfish) plus two illustrators (Jeanne Detallante and Pierre Mornet) - claimed a portion of the dark, angular space and brought it to life with their giant faces that drifted in and out of the kinetic motifs. Brooklyn-based Specter placed his girls within a cross-section of rainbows in offbeat colours. Describing how the artists contributed to the dynamic experience, Spector noted: 'The way that each piece confronts each other, it really creates a collaboration.'

And yet, the impact could have proved more disruptive than dynamic. But the creation process made all the difference, as 2x4's founder Michael Rock explained. 'By insisting on real paintings instead of digital reproductions, Miuccia Prada is fostering the creative energy that can only happen when everyone is physically working together in a space.'

Stinkfish, who works in Bogotá (opens in new tab), imbued his visage with trippy decorative bursts of colour. As a street artist, he describes his work as 'primordial' - a word not typically associated with high fashion. 'To me, working in the streets, in public spaces, it's primordial, it's the spirit of my work,' Stinkfish explained. 'I really like to share what I do in a direct way - without intermediaries and without any barrier between my work and the public.'

In this way, Prada could be considered an intermediary. But this show will be the antithesis of a barrier for Stinkfish and the others. The queen of counterintuitive strikes again.