Highlights from Hyères International Festival of Fashion and Photography 2018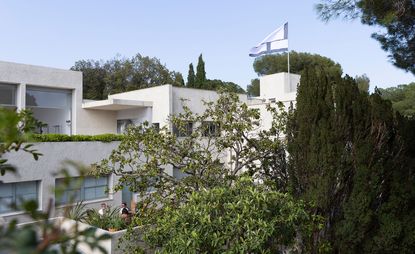 (Image credit: Mary Gaudin)
Every year since 1986, the fashion world has been invited into the modernist sanctuary of the sprawling Villa Noailles, hidden in the hills above Hyères. Installations from ready-to-wear, photography and accessory design talents stand in rooms once occupied by prototype chairs by Marcel Breuer, the textiles of Sonia Delaunay and paintings by Mondrian and Braque; the ghost of Giacometti lurks in the surrounding gardens.

The villa was built by Robert Mallet-Stevens for art patrons Charles and Marie-Laure de Noailles in the late 1920s as a manifesto of modernity, with spaces dedicated to the pursuit of physical fitness. For the 33rd International Festival of Fashion and Photography, the walls of the squash court were papered in outsized celebrity portraits taken by the President of the Fashion Photography jury, Bettina Rhiems, for Details magazine in the late 1990s. The covered indoor swimming pool on the top floor hosted an exhibition of designers including Nicolas Ghesquière, Jun Takahashi and Azzedine Alaïa, curated by Haider Ackermann who presides over the Grand Prize of the Jury Première Vision. Christelle Kocher, artistic director of the House of Lemarié, laid 4.5 metres of white cotton cloth out on the terrace, inviting guests to craft delicate flower embroideries from rhinestone, silk, cotton and rhodoid.

Many of the talents dialled down the technology-first stance taking over much of the design world; creativity, craft and common sense were on intense display. In a narrow room flanked by rippled plastic columns sat the work of the ten shortlisted accessories designers, each honing their own, earthy style. Overseen by Kocher, the accessory prize is in its second year and is the only competition of its kind in Europe.

The mood was majestically millennial: part-accessory-part-protest, the duo behind Keef Palas, whose work we featured last month, showed earrings fashioned out of garlic cloves and olive leaves; Jinah Jung from South Korea collaged discarded prototype trainers donated by Le Coq Sportif into sculptural bags; Cécile Gray from Paris (who was awarded the public prize) developed a technique of making gauzy garments from steel wire during a sabbatical from her job as an architect. Piecing every junction of her windowpane-check filigree dress together took 150 hours of handwork. She said, 'You need time to become an expert and in this busy, fast-paced world this is something we should cultivate.'
The finalists in each of the categories are chosen by a notable roll call of judges selected from more than 300 applicants. In recent times a more cross-disciplinary, collaborative approach has become de rigueur, reflecting a wider shift in attitudes to creation.

Fittingly, the Swarovski Fashion Accessories Grand Prize of the Jury went to product designers Flora Fixy and Julia Dessirier who were approached by photographer Kate Fichard to re-think the crude, perfunctory design of domestic hearing devices. The resulting project 'H(Earring)' sits at the junction between medicine and fashion. The judges were impressed with how the aid had been emphasised and exaggerated using wax casting and 3D modelling – its sculptural qualities rendered in precious metals. 'Fashion is an amplifier for socio-political issues. Our jewellery is first an answer to the user's needs, but it is a political tool too,' the winners said.

In 2003 the Villa Noailles became an arts centre open to the public. Its cold white angles form a sharp backdrop to the corporeal business of fashion. New York based Eva O'Leary was awarded the prize for photography with her series 'Spitting Image', which records the seconds between reflection and the rejection of the self. O'Leary photographed teenage girls sitting in front of two-way mirrors. 'Letting someone photograph you is such an act of trust,' she says. 'This project has so much to do with vulnerability and the power in it. How we see ourselves, how we wish to see ourselves – the separation between the two.' The girls in her photographs are a generation who use their mobile phones as mirrors. 'The project was fuelled by a frustration at having to hide perceived flaws and I could sense that many of my own insecurities were belittled in the culture at large. Working with the girls was incredibly liberating, it was as if we shared a secret and could finally talk about it. This work made me trust my instincts in a new way,' she said.

The focus on physicality stood out in Paris-based photographer Allyssa Heuze's work too. She was awarded the Wallpaper* 'New Generation' x Hyères Photography Prize for her quirky, performative series entitled 'OÏ'. A mixture of still life and staged portraiture, Heuze's work challenges mainstream representations of sex in a playful and metaphorical way. She will shoot a fashion story for Wallpaper*'s January 2019 'New Generation' issue, our annual celebration of fresh creative talent. 'I have the same childlike, naive mind-set with my subjects no matter what I am shooting' she says. 'I'm interested in everyday objects and everyday scenes… telling a story through moments that are usually banal, with humour.' There is both an oddness and a positivity to her pictures.

The grand prize was awarded to Wallpaper* Graduate Directory 2018 designers Rushemy Botter & Lisi Herrebrugh for their collection 'Fish Or Fight'. Billed as an ode to their shared Caribbean roots, the duo took inspiration from fishermen whose large colourful nets, worn slung over the shoulder, were translated into draped coats and louche, layered separates. 'I sketch and from there Lisi takes the lead, translating the sketches into real garments,' Botter said. 'We don't want it to look difficult. It takes a lot of technical details to give it this ease.' Based in Antwerp, the designers – who were also nominated for the 2018 LVMH Prize earlier this year – will be granted 15,000 euros and will collaborate on a project with Chanel's Métiers d'Art. Mercedes-Benz will also invite the duo to show during Berlin Fashion Week's Spring 2019 collections in July.

Mercedes-Benz has supported the festival since 2012. This year, it showcased shortlisted designers from the fashion RTW category and pieces by previous winners and competitors. Last year's grand prize winner Vanessa Schindler returned to Hyères with a collection developed in partnership with Chanel's Maison Lesage. Her work establishes a new vocabulary for fashion and uses liquid polyurethane to secure layers of fabric. 'I had some time to visit all of the different maisons first and by January I knew exactly what I wanted to do,' she says of the collaboration. 'I asked them to embroider plastic and they agreed – they were so open-minded it was crazy!'

Maison Goossens produced earrings onto which Schindler poured liquid polymer. She said, 'I work more like a sculptor in a way. But I am not an artist. I make fashion.'

The Canadian designer Marie-Ève Lecavalier received an Honourable Mention from the Jury for her MA collection entitled 'Come Get Trippy With Us'. Described as a luxury version of the psychedelic visions of Frank Zappa's music, Lecavalier worked with thick leathers, left over and rejected from production and recycled denims. Jeans featured in each outfit either as wide trousers, or left unstitched at the crotch as skirts. The look was precise, powerful and poised. 'I think it's important to make things by hand,' she said. 'I think this attitude is coming back and that's exciting.'

Lecavalier – who is interning at Raf Simons in Antwerp and was also awarded the Chloé Prize for her plaited leather and diamante dress – embodied the millennial pragmatism of this year's festival: a focus on touch; a return to making special things special again; a consciousness of consumption. The new guard are battening down, working together, talking, delivering meaningful, beautifully-designed statements. 'It's really only about your work and how it touches people,' she says.
INFORMATION
Hyères International Festival of Fashion and Photography took place from 26-30 April. For more information, visit the Villa Noailles website
Receive our daily digest of inspiration, escapism and design stories from around the world direct to your inbox
London based writer Dal Chodha is editor-in-chief of Archivist Addendum — a publishing project that explores the gap between fashion editorial and academe. He writes for various international titles and journals on fashion, art and culture and is a contributing editor at Wallpaper*. Chodha has been working in academic institutions for more than a decade and is Stage 1 Leader of the BA Fashion Communication and Promotion course at Central Saint Martins. In 2020 he published his first book SHOW NOTES, an original hybrid of journalism, poetry and provocation.