Jony Ive remembers Azzedine Alaïa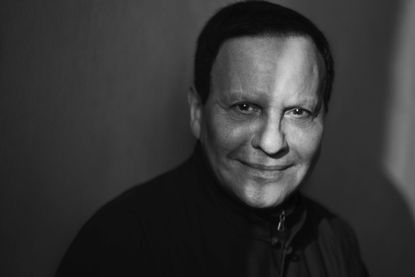 (Image credit: Peter Lindbergh)
With his inquisitive spirit and passion for hospitality, the late Azzedine Alaïa built enduring friendships with creatives near and far. Among the luminaries who happily fell into his orbit is Apple Chief Design Officer Jony Ive, who was introduced to the couturier via designer and long-time friend Marc Newson. A regular guest at Alaïa's atelier on rue de la Verrerie, Ive would often observe the couturier at work. Their mutual admiration was made evident in 2013, when Alaïa's pink ruffle dress became one of only two fashion items included in the blockbuster Red charity auction curated by Ive, Newson and musician Bono to fight AIDS in Africa. The next year, Alaïa would host a star-studded dinner at his atelier in honour of the Apple Watch.
Ahead of the Alaïa London store opening this evening, Ive reminisces with Wallpaper* Brand & Content Director Tony Chambers about a man he considered 'an unambiguous master of his craft'.
TC: How did you meet, and what was the genesis of your lasting friendship?
JI: Azzedine was very close friends with Marc and it was vicariously, through Marc that I understood a little of him and his process. For many years Azzedine had been inviting me to a lunch or dinner in his famous kitchen. I think it was almost ten years ago that we had our first dinner together, which was preceded by spending a lot of time in his atelier. This turned out to be the first of many occasions I watched him work. Every single one was an extraordinary privilege, and we became friends very quickly. I don't speak French and he didn't speak English, but it's quite extraordinary how sensitively he could communicate without the use of language.
TC: Did you see any parallels between the way he worked and the way you do, or are the fashion and industrial design processes very different?
JI: The goals of our craft can be different, but very often the divisions between creative disciplines are somewhat arbitrary and artificially reinforced. What really struck me was that we shared a preoccupation with material – an intrinsic, fundamental understanding that you cannot disconnect a material from form. I found his tenacity and refusal to accept the limits of a material enormously inspiring. If something wasn't working in the way he believed it should, he would go and create a new material.
'Given Azzedine's sense of culture, his sense of the future and of astute perception, I think it would be utterly bizarre if he didn't have fascinations ranging from fine art through to industrial design.' –Jony Ive
TC: You are known for always starting your designs by hand, though you may then develop them in many different ways. Did observing Azzedine reinforce that process?
JI: If anything, it was an affirmation that our processes were extraordinarily similar. But as a consequence of the materials we worked in, there was this fundamental difference in the feedback loop. He could make design decisions and see their results immediately, whereas for me it can take months.

TC: Azzedine created clothes that people enjoyed wearing. His clothing really came to life when it was on the body. You kind of have to activate the design, which is something Apple products share. Across all design disciplines, it's all well and good to have a beautiful thing, but truly good design needs to work when it's activated.
JI: That's something we certainly aspire to. I also feel there's an inherent ugliness to something that doesn't work. The thing that struck me about Azzedine was that he not only had a clear sense of his craft and prowess, but also a clear sense of intention. His understanding of culture and historical context was extraordinary, as was his commitment to what he did, the absence of delegation, and the degree of focus.
TC: He was very much the man at the head of the atelier, always working, never detached from the studio. There's craft, but there's also hard graft. I think it's something you share.
JI: Absolutely. I'm happiest, most useful and most productive when I am designing, and that hasn't changed for 30 years. And I always got the sense that it's what Azzedine had done, and it wasn't going to change.
TC: Azzedine was also notable for individually usurping the fashion calendar. He didn't play by the normal rules. You're in a business where there are commercial pressures and rules; do you feel the same freedom to only put out your designs when they are ready?
JI: I think it would be presumptuous of me to. I don't properly comprehend the structures and frameworks of his industry, but I think what defines and informs your work is that pursuit of excellence. It drives you to reject received wisdom and turn your back on commonly held dogma.
TC: While fashion designers are increasingly embracing design and art, Azzedine's fascination with industrial design was uncommon. His particular interest and taste is really illustrated by the list of talents used in the new London store – a crop of very modern industrial designers and architects like Naoto Fukasawa, Piero Lissoni, Marc Newson and Renzo Piano, rather than more art-leaning designers one would expect. Where would you say this comes from?
JI: Given Azzedine's sense of culture, his sense of the future and of astute perception, I think it would be utterly bizarre if he didn't have fascinations ranging from fine art through to industrial design. As a designer you need to participate in the world with your eyes open, and have obsessions and interests that span the creative disciplines.
Maison Alaïa's first London flagship boutique

TC: His all-encompassing curiosity and knowledge in all areas, and his particularly acute knowledge of design does come through clearly in his collections.
JI: It certainly does. I was in awe of his capabilities, his craft, his insight and his sense of culture.
TC: And his general working process, thinking process and design process.
JI: But also his support, kindness and generosity, which I was incredibly fortunate to be a beneficiary of. It means far more than I can possibly express with words.
INFORMATION
For more information, visit the Alaïa website (opens in new tab) and the Apple website (opens in new tab)
Jack Moss is the Fashion Features Editor at Wallpaper*. Having previously held roles at 10, 10 Men and AnOther magazines, he joined the team in 2022. His work has a particular focus on the moments where fashion and style intersect with other creative disciplines – among them art and design – as well as championing a new generation of international talent and profiling the industry's leading figures and brands.